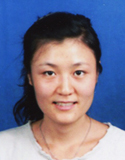 Post-doctoral Fellow
Division of Epidemiology and Biostatistics
Biography
Dr Yuan Bai obtained her PhD degree from College of Computer Science and Technology of Jilin University in 2017. She is intrigued by building spatio-temporal modeling of infectious diseases and optimization solutions to surveillance and immune problems by leveraging complex network theory, machine learning, and data mining.
Selected Publications
Du, Z., Yang, Y., Gao, C.,Huang, L., Huang, Q., & Bai, Y.(2018)The temporal network of mobile phone users in Changchun Municipality, Northeast China. Scientific Data, 5:180228.
Bai, Y., Du, Z., Zhang, C., & Zhao, X. (2018). Sentinel surveillance of traffic conditions with multilayer network. Journal of Ambient Intelligence and Humanized Computing, 1-9.
Bai, Y., Yang, B., Lin, L., Herrera, J. L., Du, Z., & Holme, P. (2017). Optimizing sentinel surveillance in temporal network epidemiology. Scientific Reports, 7(1): 4804.
Bai, Y., Yang, B., Rosalind, E.,& Du, Z. (2017). Event-based structural change detection in urban-scale contact network. Workshops at the Thirty-First AAAI Conference on Artificial Intelligence(pp. 529-532).
Bai, Y., Du, Z., Yang, B., & Meyers, L. A. (2015). Location based surveillance for early detection of contagious outbreaks. In Adjunct Proceedings of the 2015 ACM International Joint Conference on Pervasive and 6. Ubiquitous Computing and Proceedings of the 2015 ACM International Symposium on Wearable Computers(pp. 77-80).
Wang, X., Bo, Y., Jing, H., Chen, H., Xiao, G., Bai, Y., & Du, Z. (2016). Iasm: a system for the intelligent active surveillance of malaria:. Computational & Mathematical Methods in Medicine, 2016(9859), 1-11.
Yang, B., Liu, J. M., Yang, J. N., Bai, Y., & Liu, D. Y. (2012). Modeling and inferring epidemic networks based on autonomy oriented computing. Ruanjian Xuebao/Journal of Software, 23(11), 2955-2970.
Back