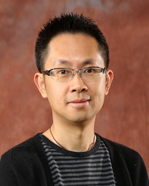 Scientific Officer
Division of Health Economics, Policy and Management
BEng (CUHK); MPhil (CUHK); PhD (CUHK)
Biography
Dr Chi-Kin Chow received the B.E., M.Phil., and Ph.D. degrees from the Department of Electronic Engineering, Chinese University of Hong Kong, Hong Kong, China, in 1999, 2001, and 2005, respectively.
He was a Research Assistant and a Senior Research Assistant with the Department of Electronic Engineering at City University of Hong Kong in 2005 and 2006, respectively. From 2007 - 2012, he has been a Research Fellow with the same department. He joined the School of Public Health at HKU as a Research Officer in 2012 and is promoted to Research Assistant Professor in April 2014.
His current research interests include mathematical modelling, neural networks architecture, pattern recognition and machine learning, evolutionary computation, computer vision and image processing, and self-organizing system. He has published more than 30 research papers, which includes papers in IEEE Transactions on Evolutionary Computation, International Journal of Computer Vision, and Pattern Recognition. He has served as Program Committee Member in 8 international conferences.
Back