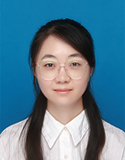 Post-doctoral Fellow
Division of Epidemiology and Biostatistics
Biography
Dr Hao received her PhD from the University of Fudan. She joined the School of Public Health, the University of Hong Kong as a post-doctoral fellow on 2019. Her research interests focus on infectious disease epidemiology.
Selected Publications
He X, Lau EHY, Wu P, Deng X, Wang J, Hao X, Lau YC, Wong JY,. Temporal dynamics in viral shedding and transmissibility of COVID-19. Nat Med. 2020;26(5):672-675.
Wu P, Hao X, Lau EHY, et al. Real-time tentative assessment of the epidemiological characteristics of novel coronavirus infections in Wuhan, China, as at 22 January 2020. Euro Surveill. 2020;25(3):2000044.
Hao X, Liu Y, Li X, Zheng J. Visualizing the History and Perspectives of Disaster Medicine: A Bibliometric Analysis. Disaster Med Public Health Prep. 2019;13(5-6):966-973.
Hao X, Li X, Zheng J. Screening China Emergency Medical Team (CEMT) Members: A Self-Leadership Perspective. Prehosp Disaster Med. 2018;33(6):596-601.
Back