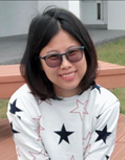 Post-doctoral Fellow
Division of Public Health Laboratory Sciences
Biography
Dr. Kaewpreedee obtained her PhD in Medical Microbiology from Chulalongkorn University, Thailand in 2018. During her PhD, she was working on immune correlates to protection particularly on T cell in HIV patients. She also has experience on adoptive T cell therapy in virus-associated malignancies.
Dr. Kaewpreedee joined the University of Hong Kong in 2019. Her research focus involves in immunological correlates of influenza transmission potential.
Selected Publications
Kaewpreedee P, Boonrat P, Tansiri Y, Rowland-Jones SL, Hansasuta P. Dimorphism in the T-cell receptor constant region affects T-cell function, phenotype and HIV outcome. AIDS. 2019;33(9):1421-9.
Choy KT, Wong AY, Kaewpreedee P, Sia SF, Chen D, Hui KPY, Chu DKW, Chan MCW, Cheung PP, Huang X, Peiris M, Yen HL. Remdesivir, lopinavir, emetine, and homoharringtonine inhibit SARS-CoV-2 replication in vitro. Antiviral Res. 2020 Jun;178:104786.
Sia SF, Yan LM, Chin AWH, Fung K, Choy KT, Wong AYL, Kaewpreedee P, Perera RAPM, Poon LLM, Nicholls JM, Peiris M, Yen HL. Pathogenesis and transmission of SARS-CoV-2 in golden hamsters. Nature. 2020 Jul;583(7818):834-838.
Back