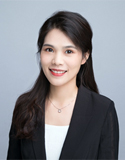 Post-doctoral Fellow
Division of Epidemiology and Biostatistics
Biography
Dr. Luo received her MPH (with distinction) and PhD from School of Public Health at The University of Hong Kong.
Dr. Luo's research interest involves finding the determinants of major non-communicable diseases and drug target repositioning using omics data. Her recent work relates to the drug target repositioning using Mendelian randomization in the UK Biobank.
Dr. Luo was awarded Bau Tsu Zung Bau Kwan Yeu Hing Research and Clinical Fellowship and the University's Research Output Prize 2019-20.
Selected Publications
(† Denotes joint first author)
Luo S, Clarke SLN, Ramanan AV, Thompson S, Langefeld CD, Marion MC, Grom AA, Schooling CM, Gaunt TR, Au Yeung SL, Zheng J. Platelet glycoprotein Ib alpha chain as a putative therapeutic target for juvenile idiopathic arthritis: a Mendelian randomization study. Arthritis and Rheumatology. 2020 [Impact factor: 9.586, Q1 in Immunology]
Luo S, Schooling CM, Wong ICK, Au Yeung SL. Evaluating the impact of AMPK activation, a target of metformin on risk of cardiovascular diseases and cancer in the UK Biobank: a Mendelian randomization study. Diabetologia 2020;63(11):2349-58. [Impact factor: 7.518, Q1 in Endocrinology, Diabetes and Metabolism]
Luo S, Au Yeung SL, Zuber V, Burgess S, Schooling CM. The impact of genetically predicted red blood cell traits on venous thromboembolism, multivariable Mendelian randomization study using UK Biobank. Journal of the American Heart Association. 2020;9(14):e016771. [Impact factor: 4.605, Q1 in Cardiology and Cardiovascular Medicine]
Zheng J, Haberland V, Baird D, Walker V, Haycock P, Hurle MR, Gutteridge A, Erola P, Liu Y, Luo S, Robinson J, Richardson TG, Staley JR, Elsworth B, Burgess S, Sun BB, Danesh J, Runz H, Maranville JC, Martin HM, Yarmolinsky J, Laurin C, Holmes MV, Liu JZ, Estrada K, Santos R, McCarthy L, Waterworth D, Nelson M

R,

Smith GD, Butterworth AS, Hemani G, Scott RA, Gaunt TR. Phenome-wide

Mendelian randomization mapping the influence of the plasma

proteome on complex diseases. Nature Genetics. 2020; 52(10):1122-31. [Impact factor: 27.605, Q1 in Genetics]
Au Yeung SL, Luo S, Schooling CM. The impact of glycated hemoglobin on risk of hypertension: a Mendelian randomization study using UK Biobank. Journal of Hypertension. 2020;38(1):38-44. [Impact factor: 4.171, Q1 in Cardiology and Cardiovascular Medicine]
Luo S, Au Yeung SL, Zhao J, Burgess S, Schooling CM. Association of genetically predicted testosterone with thromboembolism, heart failure, and myocardial infarction: mendelian randomization study in UK Biobank. BMJ. 2019. 364:

l476. [Impact factor: 30.313, Q1 in Medicine]
Au Yeung SL, Luo S, Schooling CM. The impact of GDF-15, a biomarker for metformin, on the risk of coronary artery disease, breast and colorectal cancer, and type 2 diabetes and metabolic traits: a Mendelian randomisation study. Diabetologia, 2019. 62(9): p.

1638-46 [Impact factor: 7.518, Q1 in Endocrinology, Diabetes and Metabolism]
Schooling CM, Luo S,† Au Yeung SL, et al. Genetic predictors of testosterone and their associations with cardiovascular disease and risk factors: A Mendelian randomization investigation. International Journal of Cardiology

.

2018.

267:171-76 [Impact factor: 3.229, Q1 in Cardiology and Cardiovascular Medicine]
Au Yeung SL, Luo S, Schooling CM. The Impact of Glycated Hemoglobin (HbA1c) on Cardiovascular Disease Risk: A Mendelian Randomization Study Using UK Biobank. Diabetes Care

2018;41(9):1991-97 [Impact factor: 16.019, Q1 in Endocrinology, Diabetes and Metabolism]
Schooling CM, Luo S, Johnson G. ADAMTS-13 activity and ischemic heart disease: a Mendelian randomization study. Journal of Thrombosis and Haemostasis. 2018;16(11):2270-5. [Impact factor: 4.157, Q1 in Hematology]
Back