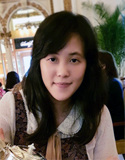 Post-doctoral Fellow
Division of Public Health Laboratory Sciences
Biography
Dr. Angel Ma received her PhD from the Department of Pathology, the University of Hong Kong in 2020 before joining the School of Public Health as a Post-doctoral Fellow. Her earlier research revolved around the role of dysregulated fatty acid metabolism in exacerbating hepatocellular carcinoma. She is currently interested in the therapeutic potential of mesenchymal stromal cells and their derivatives in promoting tissue regeneration, and elucidating prospective therapeutic targets from the secretome profiles arising from emerging respiratory viral infections.
Selected Publications
Mao X, Zhou L, Tey SK, Ma APY, Yeung CLS, Ng TH, Wong SWK, Liu BHM, Fung YME, Patz Jr. EF, Cao P, Gao Y, Yam JWP. Tumour extracellular vesicle-derived Complement Factor H promotes tumorigenesis and metastasis by inhibiting complement-dependent cytotoxicity of tumour cells. Journal of Extracellular Vesicles. 2020;10(1):e12031.
Leung Z, Ko FCF, Tey SK, Kwong EML, Mao X, Liu BHM, Ma APY, Fung YME, Che CM, Wong DKH, Lai CL, Ng IO, Yam JWP. Galectin-1 promotes hepatocellular carcinoma and the combined therapeutic effect of OTX008 galectin-1 inhibitor and sorafenib in tumor cells. J Exp Clin Cancer Res. 2019;38(1):423.
Leung YH, Guo MY, Ma APY, Ng AMC, Djurišić AB, Degger N, Leung FCC. Transmission electron microscopy artifacts in characterization of the nanomaterial-cell interactions. Appl Microbiol Biotechnol. 2017;101(13):5469-79.
Leung YH, Xu X, Ma AP, Liu F, Ng AM, Shen Z, Gethings LA, Guo MY, Djurišić AB, Lee PK, Lee HK, Chan WK, Leung FC. Toxicity of ZnO and TiO(2) to Escherichia coli cells. Sci Rep. 2016;6:35243.
Ma AP, Jiang J, Tun HM, Mauroo NF, Yuen CS, Leung FC. Complete Genome Sequence of Staphylococcus xylosus HKUOPL8, a Potential Opportunistic Pathogen of Mammals. Genome Announc. 2014;2(4).
Back