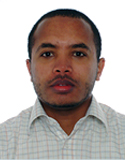 Assistant Lecturer
DVM (Ethiopia), EMSRHS – Joint MSc (Lithuania, Italy, Spain, Hungary), PhD (CUHK)
Biography
Dr Bedru Hussen Mohammed joined the School of Public Health as a Senior Research Assistant in 2015. He later joined the teaching team in 2017. Since joining the School, he has been actively involved in undergraduate and postgraduate teaching. Emerging Infectious Diseases [CMED6104], Infectious Diseases in Public Health [CMED6105], Accounting and Financial Management in Health Care [CMED6109], and Principles of Health Care Management [CMED6901] are among the postgraduate courses he has been involved. He take part in the teaching of MBBS courses, including Problem Based Learning [PBL], Evidence Based Practice [EBP] and Health Research Project [HRP]. He is also actively involved in the development of a new Global Health elective course curriculum for MBBS.
Dr Bedru has a PhD in Public Health from the Chinese University of Hong Kong and a joint MSc degree from four European Universities. He also took MPH courses including advanced epidemiology and global health at Umea University, Sweden. He received his bachelor's degree from Addis Ababa University.
Dr Bedru has a range of quantitative research and teaching experience and skills. He served as a Lecturer and researcher in Haramaya University, Ethiopia. His research interests include global health, health inequity, maternal and child health, and climate change.
Back