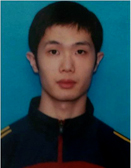 Research Assistant Professor
Division of Public Health Laboratory Sciences
Biography
Research Interests:
1) Viral determinants of avian influenza viruses which associated with the pathogenicity in human or other mammals
2) Clinical Virology
3) Molecular biology of anti-viral drugs against influenza virus
Selected Publications
Yang ZF?, Mok CKP?, Liu XQ?, Li XB, He JF,Guan WD, Xu YH, Pan WQ, Chen LY, Lin YP, Wu SG, Pan SH, Huang JC, Ding GY, Zheng K, Ke CW, Lin JY, Zhang YH, Lee HHY, Liu WK,Yang CG, Zhou R, Peiris JSM,Li YM, Chen RC, ChenL,Zhong NS. (2014) Clinical, virological and immunological features from patients infected with re-emergentavian-origin human H7N9 influenza disease of varying severity in GuangDong province. PlosOne. Revised. (?equal contribution)
Chin AW, Li OT, Mok CK, Ng MK, Peiris M, Poon LL. (2014) Influenza A viruses with different amino acid residues at PB2-627 display distinct replication properties in vitro and in vivo: Revealing the sequence plasticity of PB2-627 position. Virology. 468-470:545-55.
Valkenburg SA, Li OT, Mak PW, Mok CK, Nicholls JM, Guan Y, Waldmann TA, Peiris JS, Perera LP, Poon LL. IL-15 adjuvanted multivalent vaccinia-based universal influenza vaccine requires CD4+ T cells for heterosubtypic protection.(2014) Proc Natl Acad Sci U S A. 111:5676-81.
Mok CKP, Lee HHY, Lestra M, Nicholls JM, Chan MCW, Sia SF, Zhu H, Poon LLM, Guan Y, PeirisJSM. (2013) Amino-acid substitutions in polymerase basic protein 2 gene contributes to the pathogenicity of the novel A/H7N9 influenza virus in mammalian hosts.J Virol. 88:3568-76
Mok CKP, Lee HHY, Chan MCW, Sia SF, Lestra M, Nicholls JM, Zhu H, Guan Y, Peiris JSM. (2013) Pathogenicity of the novel A/H7N9 influenza virus in mice. MBio. 4:.doi:pii: e00362-13.
Chan MCW?, Chan RWY?, Chan LLY?, Mok CKP?, Hui KPY, Fong JHM, Tao KP, Poon LLM, Nicholls JM, Guan Y, Peiris JSM. (2013) Tropism and innate host responses of a novel avian origin influenza A (H7N9) virus in ex vivo and in vitrocultures of the human respiratory tract. Lancet Respiratory Medicine. 1:534-542 (?equal contribution)
Mok CK, Kang SS, Chan RW, Yue PY, Mak NK, Poon LL, Wong RN, Peiris JS, Chan MC. (2013) Anti-inflammatoryand anti-viraleffects of indirubinderivativesin H5N1-infected primary macrophages and pneumocytes. Antiviral Res. pii: S0166-3542(14)00093-X.
Mok CK, Yen HL, Yu MY, Yuen KM, Sia SF, Chan MC, Qin G, Tu WW, Peiris JS. (2011) Amino acid residues 253 and 591 of the PB2 protein of avian influenza virus A H9N2 contribute to mammalian pathogenesis. J Virol. 85:9641-5
Mok KP, Wong CH, Cheung CY, Chan MC, Lee SM, Nicholls JM, Guan Y, Peiris JS. (2009) Viral genetic determinants of H5N1 influenza viruses that contribute to cytokine dysregulation. J Infect Dis. 200:1104-12.
Mok CKP, Lee DCW, Cheung CY, Peiris M and Lau ASY. (2007)Differential onset of apoptosis in H5N1- and H1N1-infected human blood macrophages. Journal of General Virology. 88:1275-80.
Back