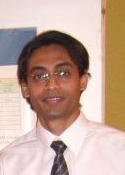 Research Assistant Professor
Division of Public Health Laboratory Sciences
Biography
Dr Ranawaka APM Perera obtained his PhD degree in the Department of Oral Biosciences, Faculty of Dentistry, The University of Hong Kong and his research interests include Viral immunology and Immunopathology.
He was awarded FY10 Health Disparity Post-doctoral Research Training Award, Department of Defense, USA; through Beth Israel Deaconess Medical Center, Harvard Medical School, USA. 2010.
Colgate Research in Prevention Award and Lion Research Award in microbiology and immunology, by International Association of Dental Research (IADR)Miami, USA. April 2009.
Charles T Kean memorial Award by IADR, September 2010.
Selected Publications
Perera RA, Wang P, Gomaa MR, El-Shesheny R, Kandeil A, Bagato O, Siu LY, Shehata MM, Kayed AS, Moatasim Y, Li M, Poon LL, Guan Y, Webby RJ, Ali MA, Peiris JS, Kayali G. Seroepidemiology for MERS coronavirus using microneutralisation and pseudoparticle virus neutralisation assays reveal a high prevalence of antibody in dromedary camels in Egypt, June 2013. Euro Surveill. 2013 Sep 5;18(36).
Vijaykrishna D, Smith GJ, Pybus OG, Zhu H, Bhatt S, Poon LL, Riley S, Bahl J, Ma SK, Cheung CL, Perera RA, Chen H, Shortridge KF, Webby RJ, Webster RG, Guan Y, Peiris JS. Long-term evolution and transmission dynamics of swine influenza A virus. Nature. 2011 May 26;473(7348).
Perera RA, Hemida MG, Wang P, Alhammadi MA, Siu LY, Li M, Poon LL, Saif L, Alnaeem A, Peiris M. Middle East Respiratory Syndrome (MERS) coronavirus seroprevalence in domestic livestock in Saudi Arabia, 2010 to 2013. Euro Surveill. 2013 Dec 12;18(50):20659.
Chu DK, Poon LL, Gomaa MM, Shehata MM, Perera RA, Abu Zeid D, El Rifay AS, Siu LY, Guan Y, Webby RJ, Ali MA, Peiris M, Kayali G. MERS coronaviruses in dromedary camels, Egypt. Emerg Infect Dis. 2014 Jun;20(6):1049-53.
Perera M, Tsang CS, Distel RJ, Lacy JN, Ohno-Machado L, Ricchiuti V, Samaranayake LP, Smejkal GB, Smith MG, Trachtenberg AJ, Kuo WP. TGF-beta1 interactome: metastasis and beyond. Cancer Genomics Proteomics. 2010 Jul-Aug;7(4):217-29.
Hemida MG, Chu DK, Poon LL, Perera RA, Alhammadi MA, Ng HY, Siu LY, Guan Y, Alnaeem A, Peiris M. MERS coronavirus in dromedary camel herd, Saudi Arabia. Emerg Infect Dis. 2014 Jul;20(7):1231-4.
Ekanayake L, Perera M. Pattern of traumatic dental injuries in children attending the University Dental Hospital, Sri Lanka. Dent Traumatol. 2008 Aug;24(4):471-4.
Pow EH, Law MY, Tsang PC, Perera RA, Kwong DL. Salivary Epstein-Barr virus DNA level in patients with nasopharyngeal carcinoma following radiotherapy. Oral Oncol. 2011 Sep;47(9):879-82.
Perera RA, Riley S, Ma SK, Zhu HC, Guan Y, Peiris JS. Seroconversion to pandemic (H1N1) 2009 virus and cross-reactive immunity to other swine influenza viruses. Emerg Infect Dis. 2011 Oct;17(10):1897-9.
Perera RA, Samaranayake LP, Tsang CS. Shedding dynamics of Epstein-Barr virus: A type 1 carcinogen. Arch Oral Biol. 2010 Sep;55(9):639-47.
Cowling BJ, Perera RA, Fang VJ, Chan KH, Wai W, So HC, Chu DK, Wong JY, Shiu EY, Ng S, Ip DK, Peiris JS, Leung GM. Incidence of influenza virus infections in children in Hong Kong in a 3-year randomized placebo-controlled vaccine study, 2009-2012. Clin Infect Dis. 2014 Aug 15;59(4):517-24.
Tsang TK, Cauchemez S, Perera RA, Freeman G, Fang VJ, Ip DK, Leung GM, Malik Peiris JS, Cowling BJ. Association between antibody titers and protection against influenza virus infection within households. J Infect Dis. 2014 Sep 1;210(5):684-92.
Shan J, Pow EH, Tsang PC, Perera RA, Kwong DL. Comparison of two laboratory extraction techniques for the detection of Epstein-Barr virus in the saliva of nasopharyngeal carcinoma patients. J InvestigClin Dent. 2014 May;5(2):104-8.
Wu JT, Leung K, Perera RA, Chu DK, Lee CK, Hung IF, Lin CK, Lo SV, Lau YL, Leung GM, Cowling BJ, Peiris JS. Inferring influenza infection attack rate from seroprevalence data. PLoSPathog. 2014 Apr 3;10(4).
Perera M, Tsang PC, Samaranayake L, Lee MP, Li P. Prevalence of oral mucosal lesions in adults undergoing highly active antiretroviral therapy in Hong Kong. J InvestigClin Dent. 2012 Aug;3(3):208-14.
Hemida MG, Perera RA, Al Jassim RA, Kayali G, Siu LY, Wang P, Chu KW, Perlman S, Ali MA, Alnaeem A, Guan Y, Poon LL, Saif L, Peiris M. Seroepidemiology of Middle East respiratory syndrome (MERS) coronavirus in Saudi Arabia (1993) and Australia (2014) and characterisation of assay specificity. Euro Surveill. 2014 Jun 12;19(23).
Freeman G, Ng S, Perera RA, Fang VJ, Ip DK, Leung GM, Peiris JS, Cowling BJ. Multivariate analysis of factors affecting the immunogenicity of trivalent inactivated influenza vaccine in school-age children. Epidemiol Infect. 2014 May 1:1-10.
Back