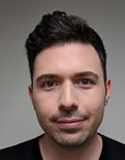 Biography
Dr Romo is both a pharmacist and epidemiologist by training who is focused on improving public health by understanding and addressing health disparities.
Matthew's past research experience has spanned both observational studies and clinical trials, and has contributed to the evidence base for the clinical management of neurocysticercosis, a parasitic disease of the central nervous system that disproportionately affects those living in poverty, and how to implement public health technology and programs, including HIV self-testing to high-risk mobile populations in Kenya and a nutrition/physical activity educational program to preschoolers in Ecuador.
Prior to moving to Hong Kong, Matthew worked at the City University of New York (CUNY) where he was a research scientist at the CUNY Institute for Implementation Science in Population Health and taught epidemiology courses to Master of Public Health students at the CUNY Graduate School of Public Health and Health Policy. He has also served as a long-term consultant to the New York City Department of Health and Mental Hygiene Bureau of Epidemiology and Division of Family and Child Health.
Selected Publications
Romo ML, Abril-Ulloa V. Improving nutrition habits and reducing sedentary time among preschool-aged children in Cuenca, Ecuador: a trial of a school-based behavioral intervention. Preventing Chronic Disease. 2018. 15:E96.
Carpio A, Fleury A, Romo ML, Abraham R, Fandiño J, Duran JC, Cárdenas G, Moncayo J, Leite Rodrigues C, San-Juan D, Serrano-Dueñas M, Takayanagui O, Sander JW. Reliability and validity of new criteria for the diagnosis of neurocysticercosis. Annals of Neurology. 2016;80:434-442.
Romo ML, Abril-Ulloa V, Kelvin EA. The relationship between hunger and mental health in school-going Ecuadorian adolescents. Social Psychiatry and Psychiatric Epidemiology. 2016;16:401-414.
Romo ML, Chan PY, Lurie-Moroni E, Perlman SE, Newton-Dame R, Thorpe LE, McVeigh KH. Characterizing adults receiving primary medical care in New York City: Implications for using electronic health records for chronic disease surveillance. Preventing Chronic Disease. 2016;13:E56.
Romo ML, Wyka K, Carpio A, Leslie D, Andrews H, Bagiella E, Hauser WA, Kelvin EA; for the Ecuadorian Neurocysticercosis Group. The effect of albendazole treatment on seizure outcomes in patients with symptomatic neurocysticercosis. Transactions of the Royal Society of Tropical Medicine and Hygiene. 2015;109:738-746.
Back