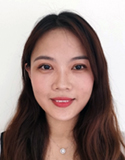 Post-doctoral Fellow
Division of Public Health Laboratory Sciences
Biography
Dr. Wei received her PhD from Wuhan Institute of Virology, Chinese Academy of Sciences (CAS) in 2021. She was co-trained at the Institut Pasteur of Shanghai, CAS during 2019-2021. Her previous research mainly focused on the molecular evolution of emerging infectious viruses and endogenous retroviruses. She joined the HKU-Pasteur Research Pole, School of Public Health as a Post-doctoral Fellow in 2021. She is currently interested in evolution and transmission dynamics of pathogens.
Selected Publications
(* Equal contribution)
Wei X

, Li X, Cui J. (2020). Evolutionary perspectives on novel coronaviruses identified in pneumonia cases in China. Natl Sci Rev, 7(2):239-42.

Wei X*

, Chen Y*, Duan G, Holmes EC, Cui J. (2019). A reptilian endogenous foamy virus sheds light on the early evolution of retroviruses. Virus Evol, 5(1):vez001.
Chen Y*, Wei X*, Zhang G, Holmes EC, Cui J. (2019). Identification and evolution of avian endogenous foamy viruses. Virus Evol, 5(2):vez049.
Liu J*, Xu J*, Liu L*, Wei X*, Song Y, Fang B, Yu X, Li X, Ye G, Du Y, Chen M, Shi W, Liu D, et al. (2018). Sudden emergence of human infections with H7N9 avian influenza A virus in Hubei province, central China. Sci Rep, 8(1):2486.

Wei X

, Cui J. (2018). Why were so few people infected with H7N9 influenza A viruses in China from late 2017 to 2018? Sci China Life Sci, 61(11):1442-4.

Wei X*

, Chen M*, Cui J. (2017). Bayesian evolutionary analysis for emerging infectious disease: an exemplified application for H7N9 avian influenza viruses. Sci China Life Sci, 60(12):1392-5.

Back