Roundtable Series with Movers and Shakers in Global Health: A Dialogue with Professor Barry Bloom on 16 January 2019
2019年01月16日
The School of Public Health is delighted to announce that our next Roundtable Series with Movers and Shakers in Global Health will be held on 16 January 2019 (Wednesday). We have the privilege of speaking to Professor Barry Bloom, Joan and Julius Jacobson Research Professor of Public Health and Dean Emeritus of Harvard T.H. Chan School of Public Health.

Professor Barry Bloom has been a pioneer in infectious disease research and vaccine science. He served as Dean of Harvard School of Public Health from 1999 to 2009 and spent over 35 years as principal investigator researching the immune response to tuberculosis in his Harvard lab. Trained in immunology, he has made important contributions to infectious diseases, vaccine research and global health policy. His lifelong commitment is to bring knowledge and methods of cutting edge basic science to alleviating the burdens of disease in developing countries.

Professor Bloom's scientific contributions have made him a trusted advisor in public health policy worldwide. He has served as advisor to many important organizations including the World Health Organization and the White House on International Health Policy. He is the recipient of numerous prestigious awards such as the first Bristol-Myers Squibb Award for Distinguished Achievement in Infectious Diseases Research; a shared Novartis Prize for Clinical Immunology; and the Robert Koch Gold Medal for lifetime research in infectious diseases. He is a member of the National Academy of Sciences; the Institute of Medicine; the American Association for the Advancement of Science; and the American Philosophical Society. He currently serves on over 15 boards and advisory committees including the Board of Trustees for the Tuberculosis Vaccine Initiative (TBVI) and as Chairman Emeritus of the International Vaccine Institute (IVI).

Please join us for an interactive dialogue with Professor Bloom at the roundtable that day.

Details of the roundtable are as follows:
Speaker:
Professor Barry Bloom
Joan and Julius Jacobson Research Professor of Public Health and Dean Emeritus of Harvard T.H. Chan School of Public Health
Date:
16 January 2019 (Wednesday)
Time:
12:30 p.m. - 2:00 p.m.
Venue:
Lecture Theatre 3, Cheung Kung Hai Conference Centre, G/F William MW Mong Block, 21 Sassoon Road, Pokfulam, Hong Kong
Moderator:
Professor Keiji Fukuda
Director and Clinical Professor, School of Public Health, HKU
Please click here to view Professor Bloom's bio.

Online registration for this roundtable will be accepted until noon, 15 January 2019 (Tuesday). For enquiries, please contact Mr Shawn Kam at 3917 9486 or mhkam@hku.hk. We look forward to seeing you at our Roundtable Series.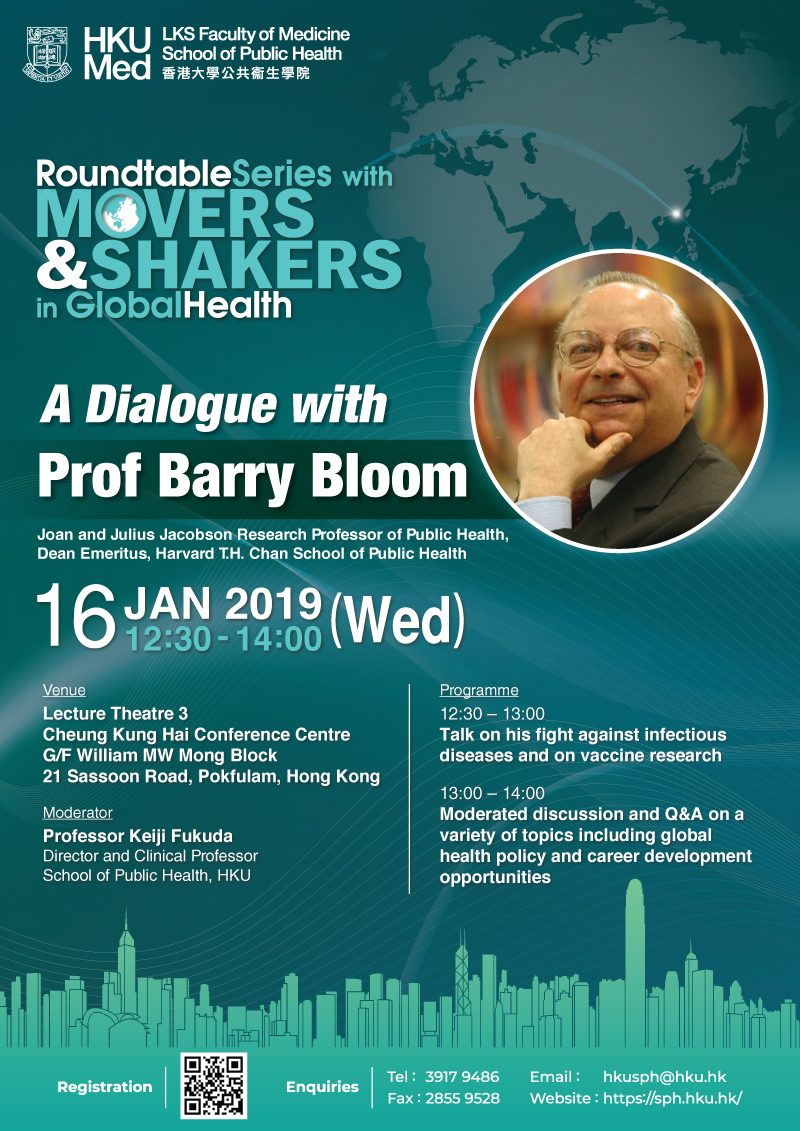 返回