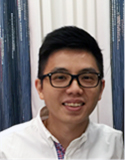 Post-doctoral Fellow
Division of Public Health Laboratory Sciences
Biography
Dr William Cheung received his PhD from the Department of Microbiology of the University of Hong Kong. His research interest is the evolution and ecology of viral infectious diesases such as A/H7N9, MERS-CoV and avian paramyxoviruses.
Selected Publications
Huang PY, Lee CC, Yip CH, Cheung CL, Yu G, Lam TT, Smith DK, Zhu H, Guan Y. Genetic characterization of highly pathogenic H5 influenza viruses from poultry in Taiwan, 2015. Infection, Genetic and Evolution. 2016 Mar;38:96-100.
Lam TT, Wang J, Shen Y, Zhou B, Duan L, Cheung CL, Ma C, Lycett SJ, Leung YHC, Chen X, Li F, Hong W, Chai Y, Zhou L, Liang H, Ou Z, Liu Y, Farooqui A, Kelvin DJ, Poon LLM, Smith DK, Pybus OG, Leung GM, Shu Y, Webster RG, Webby RJ, Peiris JSM, Rambaut A, Zhu H, GuanY. The genesis and source of the H7N9 influenza viruses causing human infections in China. Nature. 2013 Oct 10;502(7470):241-4.
Vijaykrishna D, Smith GJ, Pybus OG, Zhu H, Bhatt S, Poon LL, Riley S, Bahl J, Ma SK, Cheung CL, Perera RA, Chen H, Shortridge KF, Webby RJ, Webster RG, Guan Y, Peiris JS. Long-term evolution and transmission dynamics of swine influenza A virus. Nature. 2011 May 26;473(7348):519-22.
Vijaykrishna D, Poon LL, Zhu HC, Ma SK, Li TW, Cheung CL, Smith GJ, Peiris JS, Guan Y. Reassortment of pandemic H1N1/2009 influenza A virus in swine. Science. 2010 Jun 18;328(5985):1529.
Smith GJ, Vijaykrishna D, Bahl J, Lycett SJ, Worobey M, Pybus OG, Ma SK, Cheung CL, Raghwani J, Bhatt S, Peiris JS, Guan Y, Rambaut A. Origins and evolutionary genomics of the 2009 swine-origin H1N1 influenza A epidemic. Nature. 2009 Jun 25;459(7250):1122-5.
Cheung CL, Vijaykrishna D, Smith GJ, Fan XH, Zhang JX, Bahl J, Duan L, Huang K, Tai H, Wang J, Poon LL, Peiris JS, Chen H, Guan Y. Establishment of influenza A virus (H6N1) in minor poultry species in southern China. Journal of Virology. 2007 Oct;81(19):10402-12
Cheung CL, Rayner JM, Smith GJ, Wang P, Naipospos TS, Zhang J, Yuen KY, Webster RG, Peiris JS, Guan Y, Chen H. Distribution of amantadine-resistant H5N1 avian influenza variants in Asia. Journal of Infectious Diseases. 2006 Jun 15;193(12):1626-9.
Guan Y, Zheng BJ, He YQ, Liu XL, Zhuang ZX, Cheung CL, Luo SW, Li PH, Zhang LJ, Guan YJ, Butt KM, Wong KL, Chan KW, Lim W, Shortridge KF, Yuen KY, Peiris JS, Poon LL. Isolation and characterization of viruses related to the SARS Coronavirus from animals in Southern China. Science. 2003 Oct 10;302(5643):276-8.
Back