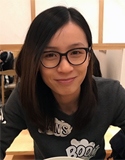 Research Officer
Division of Public Health Laboratory Sciences
Biography
Dr Rachel Ching received her PhD from the Division of Food and Nutritional Sciences of the University of Hong Kong. Her research interests focus on developing novel experimental models of the human respiratory system (e.g. organoid models) for understanding pathogenesis, tropism and virus-host interaction of influenza virus and coronavirus (SARS-CoV-2, SARS-CoV and MERS-CoV).
Selected Publications
Hui, KPY and Ng, KC and Ho, JCW and Yeung, HW and Ching, RHH and Gu, HG and Chung, JCK and Chow, VLY and Sit, KY and Hsin, MKY and Au, TWK and Poon, LLM and Peiris, M and Nicholls, JM and Chan, CW (2022), Replication of SARS-CoV-2 Omicron BA.2 Variant in Ex Vivo Cultures of the Human Upper and Lower Respiratory Tract. EBioMedicine. 2022 Aug 18;83:104232. doi: 10.1016/j.ebiom.2022.104232.

2. Hui KPY, Ho JCW, Cheung MC, Ng KC,

Ching RHH

, Lai KL, Kam TT, Gu H, Sit KY, Hsin MKY, Au TWK, Poon LLM, Peiris M, Nicholls JM, Chan MCW (2022) SARS-CoV-2 Omicron variant replication in human bronchus and lung ex vivo.

Nature.

2022

Feb 1. doi: 10.1038/s41586-022-04479-6.

3. Hui KP, Ching RH, Chan SK, Nicholls JM, SachsN, CleversH, Peiris JS, Chan MC. Assessment of influenza virus tropism, replication competence and innate immune responses: a prospective comparative study of human airway organoids and ex-vivo bronchus cultures.

Lancet Respiratory Medicine.

2018 July 19; S2213-2600(18)30236-4.

Ching RH

, Sze MF, Lau EY, Chiu EY, Lee JM, Ng IO, Lee TK. C-terminal truncated hepatitis B virus X protein regulates tumorigenicity, self-renewal and drug resistance via STAT3/Nanog signaling pathway.

Oncotarget

2017

Feb 8. doi: 10.18632/oncotarget.15183. (Impact factor: 2.65)

Lo J, Lau EY, So FT, Lu P, Chan VS, Cheung VC, Ching RH, Cheng BY, Ma MK, Ng IO and Lee TK. Anti-CD47 antibody suppresses tumor growth and augments the effect of chemotherapy treatment in hepatocellular carcinoma.

Liver Int.

2016 May;36(5):737-45. doi: 10.1111/liv.12963.

Ching RH

, Lau EY, Ling PM, Ma JM, Ma MK, Cheng BY, Lo RC, Ng IO, Lee TK. Phosphorylation of Nucleophosmin at Threonine 234/237 is associated with HCC metastasis.

Oncotarget.

2

015

Dec 22;6(41):43483-95. doi: 10.18632/oncotarget.5820.

Lo J, Lau EY, Ching RH, Cheng BY, Ma MK, Ng IO, Lee TK. NF-kB mediated CD47 upregulation promotes sorafenib resistance and its blockade synergizes the effect of sorafenib in hepatocellular carcinoma.

Hepatology.

2015 Aug;62(2):534-45. doi: 10.1002/hep.27859. (Impact factor: 14.32)

Ching RH

, Yeung LO, Tse IM, Sit WH, Li ET. Supplementation of bitter melon to rats fed a high-fructose diet during gestation and lactation ameliorates fructose-induced dyslipidemia and hepatic oxidative stress in male offspring.

J Nutr.

2011 Sep;141:1664-72.

doi: 10.3945/jn.111.142299.
Back