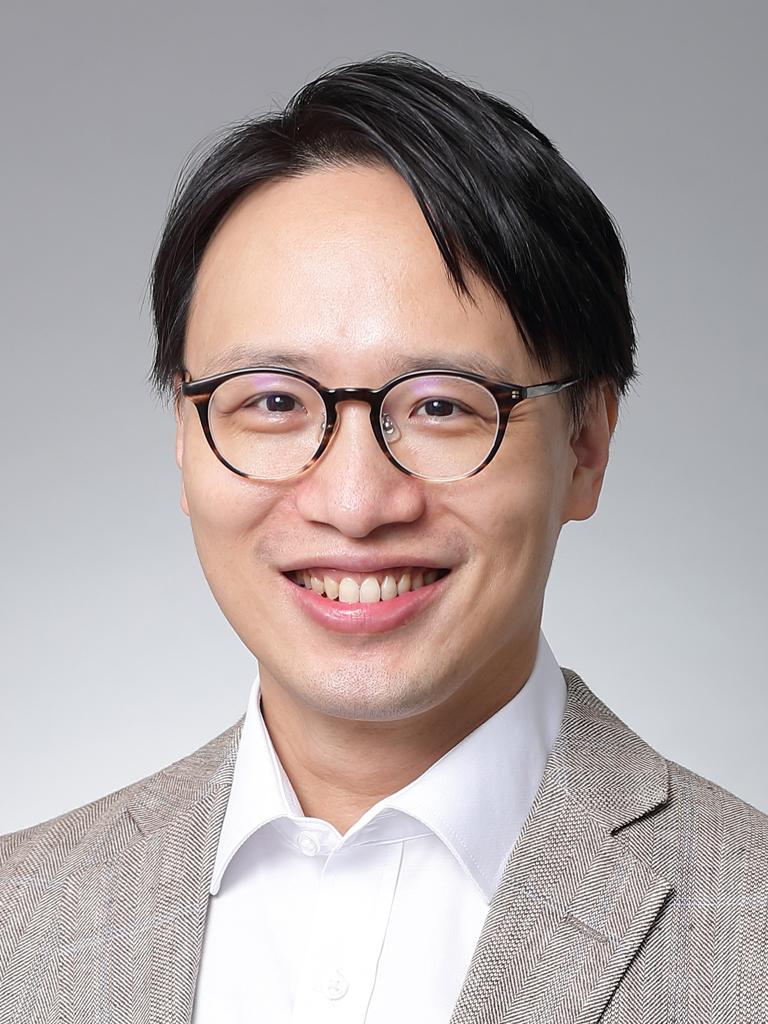 Clinical Associate Professor of Practice
Division of Community Medicine and Public Health Practice
MBBS(HK), DOM(CUHK), PDipID(HK), MPH(CUHK), FHKCCM, FHKAM (Community Medicine)
Biography
Dr Chung was a King Edward VII scholar graduated from The University of Hong Kong. During his student years, he was an active member of the St John's College; he also served firstly as Sports Captain, then later as Chairperson of the Medical Society. His training started from Paediatrics and later became a specialist in Community Medicine, with two gold medals awarded for the "Prize for Best Original Research by Trainees (BORT)" of the Hong Kong Academy of Medicine. He is an experienced trainer and examiner for the Hong Kong College of Community Medicine and the UK Faculty of Public Health. One of his main focuses is in the infectious disease area. He had hands-on experiences from the Hong Kong Department of Health and the World Health Organization in Geneva. He seated the first cohort of the Field Epidemiology Training Programme in Hong Kong and the planning team for drills related to outbreaks and the Public Health Information System. He served actively in the faculty's front-line work at the two Community Isolation Facilities during the fifth wave of the COVID-19 pandemic. Before returning to HKU, he was in The Chinese University of Hong Kong and was elected as the Teacher of the Year Award (Public Health) in the year 2020 and 2021.
Dr Chung is now the Master of the Madam S H Ho Residence for Medical Students and Programme Director for the Bachelor of Arts and Sciences in Global Health and Development [BASc(GHD)]. He is also the Chairman for the Organising Committee of the Hong Kong College of Community Medicine Annual Scientific Meeting "Health Equity: a modern day 'Deus ex machina'?". In September 2023, Dr CHUNG was elected as the Chairperson for the Curriculum Development Council - Hong Kong Examinations and Assessment Authority Committee on Health Management and Social Care."
Selected Publications
Chu Rachel YK, Szeto KC , Wong Irene OL, Chung PH. A Global Scale COVID-19 Variants Time-Series Analysis across 48 Countries. Front. Public Health Sec. Infectious Diseases: Epidemiology and Prevention. 2023;11. doi: 10.3389/fpubh.2023.1085020
Cheng AWF, Chan HB, Ip LS, Wan KKY, Yu ELM, Chiu WK, Chung PH, Yeoh EK. The physical and developmental outcomes of children whose mothers are substance abusers: Analysis of associated factors and the impact of early intervention. Front. Pediatr. 2022;10:1731. doi: 10.3389/fped.2022.1004890
Ho SW, Wong YL, Chung PH. A cross-sectional survey: Exploring future healthcare workers' intention to use cannabis through extended theory of planned behaviour. Front. Public Health. 2022;10:929016. doi: 10.3389/fpubh.2022.929016
Chu YK, Chung PH, Pang FC. Analysis of the Effectiveness of Measures on the COVID-19 Vaccination Rate in Hong Kong. Vaccines. 2022;10(5):747. doi: 10.3390/vaccines10050747.
Pang Feichau, Chung PH, Leung Gabriel M. Innovating for Health in China's Greater Bay Area[J]. China CDC Weekly, 2022;4(1):1-3. doi:10.46234/ccdcw2021.274
Lee SS, Cheng KF, Wong NS, Kwan CK, Lau OC, Cheng HF, Ngan W, Ma SP, Kam KM, Ho KM, Chung PH, Chan DPC. Emergence of antibiotic-resistant Mycoplasma genitalium as the cause of non-gonococcal urethritis in male patients at a sexually transmitted infection clinic. Int J Antimicrob Agents. 2022;59(2):106510. doi: 10.1016/j.ijantimicag.2021.106510.
Chan EYY, Sham TST, Shahzada TS, Dubois C, Huang Z, Liu S, Hung KKC, Tse SLA, Kwok KO, Chung PH, Kayano R, Shaw R. Narrative Review on Health-EDRM Primary Prevention Measures for Vector-Borne Diseases. Int J Environ Res Public Health. 2020;17(16):5981.

doi: 10.3390/ijerph17165981.

Kwok KO, Chan E, Chung PH, Tang A, Wei WI, Zhu C, Riley S, Ip M. Prevalence and associated factors for carriage of Enterobacteriaceae producing ESBLs or carbapenemase and methicillin-resistant Staphylococcus aureus in Hong Kong community. J Infect. 2020;81(2):242-247.

doi: 10.1016/j.jinf.2020.05.033.

Chong KC, Leung CC, Yew WW, Zee BC, Tam GC, Wang MH, Jia KM, Chung PH, Lau SY, Han X, Yeoh EK. Mathematical modelling of the impact of treating latent tuberculosis infection in the elderly in a city with intermediate tuberculosis burden. Scientific Rep. 2019;9(1):4869. doi:

10.1038/s41598-019-41256-4

Li J, Yip BH, Leung C, Chung W, Kwok KO, Chan EY, Yeoh E, Chung PH. Screening for latent and active tuberculosis infection in the elderly at admission to residential care homes: a cost-effectiveness analysis in an intermediate disease burden area. PLoS One. 2018;13(1). doi:

10.1371/journal.pone.0189531

Li J, Chung PH, Leung CLK, Nishikiori N, Chan EYY, Yeoh EK. The strategic framework of tuberculosis control and prevention in the elderly: a scoping review towards End TB targets. Infect Dis Poverty. 2017;6(1):70. doi: 10.1186/s40249-017-0284-4.
Li J, Shen X, Yeoh EK, Chung PH. Tuberculosis control programs and challenges in developed cities with intermediate disease burden: China experience. J Thorac Dis. 2017;9(5):E525-E528. doi: 10.21037/jtd.2017.03.185.
Li J, Nishikiori N, Leung CC, Yeoh E, Chung PH. Is population ageing cancelling out progress made in tuberculosis control in Hong Kong Special Administrative Region SAR (China)? Age-adjusted analysis of case notification data, 1990-2015. Western Pac Surveill Response J. 2017;8(1):33-36. doi:10.5365/WPSAR.2016.7.3.011

C

han KY, Chung PH. When the best time is launching Japanese encephalitis vaccination programs in Hong Kong – A simple decision model for policy makers. Asian Pac. J. Trop. Dis. 2017;7(5):315. doi: 10.12980/apjtd.7.2017D6-440
Li, J., Chung PH, Leung, C.L.K., Chan, E.Y.Y. & Yeoh, E.K. Research advances in tuberculosis epidemiological characteristics and risk factors of elderly in Hong Kong. Chinese Journal of Antituberculosis. 2016;38(8):678.
Ma SK, So K, Chung PH, Tsang HF, Chuang SK. A multi-country outbreak of fungal keratitis associated with a brand of contact lens solution: the Hong Kong experience. Int J Infect Dis. 2009;13(4):443. doi: 10.1016/j.ijid.2007.12.018.
Ma E, Chung PH, So T, et al. Streptococcus suis infection in Hong Kong: an emerging infectious disease?. Epidemiol Infect. 2008;136(12):1691-1697. doi:10.1017/S0950268808000332

Chung PH

, Mumford Liz, Perdue Michael, Prosenc Katarina Zambon, Maria, Peiris Malik, Perkins Mark, Wood John, Klimov Alexander, Meijer Adam, Jennings Lance (Global Influenza Programme). Expert consultation on diagnosis of H5N1 avian influenza infections in humans. Influenza and Other Respiratory Viruses. 2017;1(4): 131. doi:10.1111/j.1750-2659.2007.00028.x

Chung PH

, Chuang SK, Tsang T, Wai-man L, Yung R, Lo J. Cutaneous injury and Vibrio vulnificus infection. Emerg Infect Dis. 2006;12(8):1302.

doi: 10.3201/eid1208.051495

Chung PH

, Chuang SK, Tsang Thomas. Consumption of viscera as the most important risk factor in the largest outbreak of shellfish poisoning in Hong Kong. Southeast Asian J. Trop. Med. Public Health. 2006:37(1):120.

Chung PH

. Preparing for the Worst-Case Scenario. Science. 2005;310(5751):1117. doi: 10.1126/science.310.5751.1117c
G Leung, Chung PH, Tsang T, Lim W, Chan S K K, Chau P, Donnelly C, Ghani A, Fraser C, Riley S, Ferguson N, Anderson R, Law YL, Mok T, Ng T, Fu A, Leung PY, Peiris M, Lam TH, Hedley AJ. SARS-CoV antibody prevalence in all Hong Kong patient contacts. Emerg Infect Dis., 2004;19(9):1653. doi: 10.3201/eid1009.040155.
Back