Daulagala, Saluwadana Walawwe Pavithra Lakmini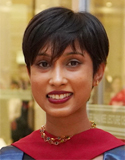 Post-doctoral Fellow
Division of Public Health Laboratory Sciences

PhD (Virology), MSc (Medical Microbiology), BSc (Microbiology).
Biography
Dr. Daulagala joined the School of Public Health, HKU as Post-doctoral Fellow in 2023, shortly after graduating from the School with a PhD in Virology. She completed her Bachelor of Science in Microbiology at the University of Pune, India in 2014 and her Master of Science in Medical Microbiology at the University of Peradeniya, Sri Lanka in 2016. Her PhD project focused on understanding the immune imprinting patterns of anti-neuraminidase antibodies against human A(H1N1)/A(H1N1)pdm09 viruses and comparing the immunogenicity of standard-dose and enhanced influenza vaccine in inducing anti-neuraminidase antibodies in the elderly.
Her current research focuses on understanding the role of anti-neuraminidase antibodies against influenza infections.
Selected Publications
Daulagala P, Mann BR, Leung K, Lau EHY, Yung, Lei R, Nizami SIN, Wu JT, Chiu SS, Daniels RS, Wu NC, Wentworth D, Peiris M, Yen HL. Imprinted anti-hemagglutinin and anti-neuraminidase antibody responses after childhood infections of A(H1N1) and A(H1N1)pdm09 influenza viruses. mBio 2023; e00084-23.

Wijesinghe C, Gunatilake J, Kusumawathie PHD, Sirisena PDNN, Daulagala SWPL, Iqbal BN and Noordeen F. Circulating dengue virus serotypes and vertical transmission in Aedes larvae during outbreak and inter-outbreak seasons in a high dengue risk area of Sri Lanka. Parasites & Vectors 2021; 14:614.

Noordeen F, Karunaratne HMSK, Nawaratne V, Pitchai FNN, Daulagala SWPL, Abeykoon AMSB. Protection against hepatitis B virus infection in a group of vaccinated Sri Lankan military service men following a complete course of vaccination. VirusDisease. 2019; 30(3):462-464.

Daulagala SWPL and Noordeen F. Epidemiology and factors influencing varicella infections in tropical countries including Sri Lanka – VirusDisease 2018;29(3):277-284.

Daulagala SWPL, Noordeen F, Fara MMF, Rathnayake C and Gunawardana K. Exposure rate of VZV among women attending antenatal care clinic in Sri Lanka – a cross sectional study. BMC Infectious Disease 2017; 17:625.
Back