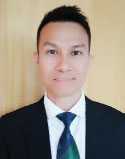 Associate Professor and Division Head
Division of Kinesiology
BSc (HKUST), MPhil (CUHK), PhD (West Virginia), FRSB, FACSM, FECSS, FHKASMSS
Biography
Dr Parco Siu joined the School of Public Health at the University of Hong Kong in 2017. He obtained his PhD training in exercise physiology at West Virginia University School of Medicine followed by postdoctoral training at Harvard Medical School. Dr Siu is a Fellow of Royal Society of Biology (FRSB), Fellow of American College of Sports Medicine (FACSM), Fellow of European College of Sport Science (FECSS), and Fellow of Hong Kong Association of Sports Medicine and Sports Science (FHKASMSS). He was elected Chartered Scientist (CSci) of Science Council, Chartered Biologist (CBiol) of Royal Society of Biology, and Registered Nutritionist (RNutr) specialised in sports nutrition of Association for Nutrition, U.K.
Dr Siu's research focuses on exercise physiology and muscle biology. His research studies the health-promoting effects as well as the underlying mechanisms of different exercise modalities including high-intensity interval training (HIIT) and Tai Chi. His research also investigates the molecular mechanisms of muscle adaptation and plasticity in response to exercise, disuse, aging and diseases. His research has received supports from competitive external research funds including General Research Fund, Health and Medical Research Fund, and Hong Kong Jockey Club Charities Trust.
Dr Siu was the first Hong Kong scholar to be honored to receive the Visiting Scholar Award of the American College of Sports Medicine (ACSM), the largest and most respected sports medicine and exercise science organisation in the world. He was also the first scholar from Hong Kong and China to be presented the New Investigator Award of ACSM. Furthermore, Dr Siu had been the recipient of various research awards including the National Student Research Award of ACSM, Research Career Enhancement Award, International Union of Physiological Sciences Travel Award and Beginning Investigator Award of the American Physiological Society (APS), and the Young Investigator Award of the Society for Experimental Biology and Medicine (SEBM).
Dr Siu is actively involving in local community by serving as the Vice President of the Hong Kong Association of Sports Medicine and Sports Science (HKASMSS) and the Executive Committee Member of the Physical Fitness Association of Hong Kong (HKPFA) to contribute to the development of the field in exercise science and sports medicine in Hong Kong.
Selected Publications
(*denotes corresponding author)
Yu AP, Ugwu FN, Tam BT, Lee PH, Ma V, Pang S, Chow AS, Cheng KK, Lai CW, Wong SC, and Siu PM*. Obestatin and growth hormone reveal the interacting effect of central obesity with the cardiometabolic risk factors of metabolic syndrome. Scientific Reports, in press, 2020 (Impact Factor2018 4.0; Rank 15/69 in Multidisciplinary Sciences; top 22%)
Chin EC, Yu AP, Lai CW, Fong DY, Chan DK, Wong SH, Sun FH, Ngai HH, Yung PS, and Siu PM*. Low-frequency HIIT improves body composition and aerobic capacity in overweight men. Medicine and Science in Sports and Exercise, 52(1): 56-66, 2020(Impact Factor2018 4.5; Rank 6/83 in Sports Science; top 7%)
Yu AP, Ugwu FN, Tam BT, Lee PH, Lai CW, Wong SC,Lam WW, Sheridan S, and Siu PM*. One year of yoga training alters ghrelin axis in centrally obese adults with metabolic syndrome. Frontiers in Physiology, 9: 1321, 2018(Impact Factor2016 4.1; Rank 15/84 in Physiology; top 18%)
Yu AP, Ugwu FN, Tam BT, Lee PH, Lai CW, Wong SC, and Siu PM*. Ghrelin axis reveals the interacting influence of central obesity and hypertension.Frontiers in Endocrinology, 9: 534,2018 (Impact Factor2017 3.5; Rank 52/143 in Endocrinology and Metabolism; top 36%)
Supriya R, Tam BT, Yu AP, Lee PH, Lai CW, Cheng KK, Yau SY, Chan LW, Yung BY, Sheridan S, and Siu PM*. Adipokines demonstrate the interacting influence of central obesity with other cardiometabolic risk factors of metabolic syndromein Hong Kong Chinese Adults. PLoS One, 13(8): e0201585, 2018 (Impact Factor2013 3.5; Rank 8/55 in Multidisciplinary Sciences; top 15%)
Supriya R, Yung BY, Yu AP, Lee PH, Lai CW, Cheng KK, Yau SY, Chan LW, Sheridan S, and Siu PM*.Adipokine profiling in adult women with central obesity and hypertension.Frontiers in Physiology, 9: 294, 2018 (Impact Factor2016 4.1; Rank 15/84 in Physiology; top 18%)
Yu AP, Tam BT, Lai CW, Yu DS, Woo J, Chung KF, Hui SS, Liu JY, Wei GX, andSiu PM*. Revealing the neural mechanisms underlying the beneficial effects of Tai Chi: A neuroimaging perspective (Review paper). American Journal of Chinese Medicine, 46(2): 231-259, 2018(Impact Factor2016 3.2; Rank 3/26 in Integrative and Complementary Medicine; top 12%)
Tam BT, Yu AP, Tam EW, Monks DA, Wang XP, Pei XM, Koh SP, Sin TK, Law HK, Ugwu FN, Supriya R, Yung BY, Yip SP, Wong SC, Chan LW, Lai CW, Ouyang P, and Siu PM*. Ablation of Bax and Bak protects skeletal muscle against pressure-induced injury. Scientific Reports, 8(1): 3689, 2018 (Impact Factor2015 5.2; Rank 7/62 in Multidisciplinary Sciences; top 11%)
Supriya R, Yu AP, Lee PH, Lai CW, Cheng KK, Yau SY, Chan LW, Yung BY, and Siu PM*. Yoga training modulates adipokines in adults with high-normal blood pressure and metabolic syndrome. Scandinavian Journal of Medicine and Science in Sports, 28(3): 1130-1138, 2018(Impact Factor2017 3.6; Rank 9/81 in Sports Science; top 11%)
Ugwu FN, Yu AP, Sin TK, Tam BT, Lai CW, Wong SC, and Siu PM*. Protective effect of unacylated ghrelin on compression-induced skeletal muscle injury mediated by SIRT1-signaling. Frontiers in Physiology, 8: 962, 2017 (Impact Factor2016 4.1; Rank 15/84 in Physiology; top 18%)
Back