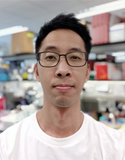 Post-doctoral Fellow
Division of Public Health Laboratory Sciences
Biography
After completing his Ph.D. study in Virology at the University of Hong Kong in 2021under the supervision of Professor Malik Peiris, Dr. So was appointed as Post-doctoral Fellow in our School in 2022. His Ph.D. study focused on understanding the epidemiology of MERS-CoV in West Africa, taking from the perspectives of virus surveillance in animals, human infection, and viral phenotyping.
His current research focus investigates molecular mechanisms of virus evolution of coronaviruses during human transmission and inter-host cross-species transmission. His approach integrates phylogenetics, virology and cell biology to unravel how coronaviruses may change their fitness, or clinical phenotype, during their transmission in human hosts.
Selected Publications
Ziqi Zhou, Kenrie P. Y. Hui, Ray T. Y. So, Huibin Lv, Ranawaka A. P. M. Perera, Daniel K. W. Chu, Esayas Gelaye, Harry Oyas, Obadiah Njagi, Takele Abayneh, Wilson Kuria, Elias Walelign, Rinah Wanglia, Ihab El Masry, Sophie Von Dobschuetz, Wantanee Kalpravidh, Véronique Chevalier, Eve Miguel, Ouafaa Fassi-Fihri, Amadou Trarore, Weiwen Liang, Yanqun Wang, John M. Nicholls, Jincun Zhao, Michael C. W. Chan, Leo L. M. Poon, Chris Ka Pun Mok, Malik Peiris. Phenotypic and genetic characterization of MERS coronaviruses from Africa to understand their zoonotic potential. Proceedings of the National Academy of Sciences, 2021.
Meng Yuan, Nicholas C. Wu, Xueyong Zhu, Chang-Chun D. Lee, Ray T. Y. So, Huibin Lv, Chris K. P. Mok, Ian A. Wilson. A highly conserved cryptic epitope in the receptor-binding domains of SARS-CoV-2 and SARS-CoV. Science, 2020.

So RTY

, Chu DKW, Miguel E, Perera RAPM, Oladipo JO, Fassi-Fihri O, Aylet G, Ko RLW, Zhou Z, Cheng MS, Kuranga SA, Roger FL, Chevalier V, Webby RJ, Woo PCY, Poon LLM, Peiris M. Diversity of Dromedary Camel Coronavirus HKU23 in African Camels Revealed Multiple Recombination Events among Closely Related Betacoronaviruses of the Subgenus Embecovirus. Journal of Virology, 2019.

So Ray TY

, Perera Ranawaka APM, Oladipo Jamiu O, Chu Daniel KW, Kuranga Sulyman A, Chan Kin-ho, Lau Eric HY, Cheng Samuel MS, Poon Leo LM, Webby Richard J, Peiris Malik. Lack of serological evidence of Middle East respiratory syndrome coronavirus infection in virus exposed camel abattoir workers in Nigeria, 2016. Euro Surveill, 2018.

Daniel K. W. Chu, Kenrie P. Y. Hui, Ranawaka A. P. M. Perera, Eve Miguel, Daniela Niemeyer, Jincun Zhao, Rudragouda Channappanavar, Gytis Dudas, Jamiu O. Oladipo, Amadou Traoré, Ouafaa Fassi-Fihri, Abraham Ali, Getnet F. Demissié, Doreen Muth, Michael C. W. Chan, John M. Nicholls, David K. Meyerholz, Sulyman A. Kuranga, Gezahegne Mamo, Ziqi Zhou, Ray T. Y. So, Maged G. Hemida, Richard J. Webby, Francois Roger, Andrew Rambaut, Leo L. M. Poon, Stanley Perlman, Christian Drosten, Veronique Chevalier and Malik Peiris. MERS coronaviruses from camels in Africa exhibit region-dependent genetic diversity. Proceedings of the National Academy of Sciences, 2018.
Back