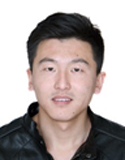 Post-doctoral Fellow
Division of Public Health Laboratory Sciences
Biography
Dr. Te obtained his PhD (D.V.M) degree from the Autonomous University of Barcelona in 2020. His doctoral research focused on the study of animal models and innate immune cell biology, with the goal of understanding the earliest events that initiate immunity to Coronavirus infection.
Dr. Te joined the University of Hong Kong in 2021. The main interest of his current research is to develop safe and potent vaccines against SARS-CoV-2 and to reveal the mechanism of protection by these vaccines.
Selected Publications
Te N

, Rodon J, Ballester M, et al. Type I and III IFNs produced by the nasal epithelia and dimmed inflammation are features of alpacas resolving MERS-CoV infection. PLOS Pathog. 2021;17(5):e1009229.
Brustolin M, Rodon J, Rodríguez de la Concepción ML, Ávila-Nieto C, Cantero G, Pérez M,

Te N

, et al. Protection against reinfection with D614- or G614-SARS-CoV-2 isolates in golden Syrian hamster. Emerg Microbes Infect. 2021; 1–36.

Vergara

‐

Alert J, Rodon J, Carrillo J,

Te N

, Izquierdo

‐

Useros N, Rodr

í

guez de ML, et al. Piglets inoculated by different routes are not susceptible to SARS

‐

CoV

‐

2, but those inoculated parenterally were immunized against the virus. Transbound Emerg Dis. 2020; 1–5.

Te N

, Vergara-Alert J, Lehmbecker A, et al. Co-localization of Middle East respiratory syndrome coronavirus (MERS-CoV) and dipeptidyl peptidase-4 in the respiratory tract and lymphoid tissues of pigs and llamas. Transbound Emerg Dis. 2019;66(2):831-841.
Rodon J, Okba NMA,

Te N

, et al. Blocking transmission of Middle East respiratory syndrome coronavirus (MERS-CoV) in llamas by vaccination with a recombinant spike protein. Emerg Microbes Infect. 2019;8(1):1593-1603.
Haverkamp AK, Bosch BJ, Spitzbarth I, Lehmbecker A,

Te N

, Bensaid A, et al. Detection of MERS-CoV antigen on formalin-fixed paraffin-embedded nasal tissue of alpacas by immunohistochemistry using human monoclonal antibodies directed against different epitopes of the spike protein. Vet Immunol Immunopathol. 2019;218: 109939.

Back