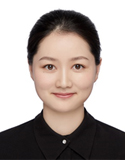 Post-doctoral Fellow
Division of Health Economics, Policy and Management

Biography
Dr XIONG obtained her PhD at the School of Public Health, Fudan University in 2021. Her main research area includes health economics, health policy, and health geography.
Selected Publications
* First Author; +Co-first Author
Xiong, X.C.*, Huo, Z.H., Zhou, S., & Luo, L#. (2023) A profile of patients' and clinical professionals' perceptions, acceptance, and utilization of e-health in a deprived region in southwestern China, PLOS Digital Health. Apr 25;2(4):e0000238. doi: 10.1371/journal.pdig.0000238. PMID: 37098005; PMCID: PMC10129013.

Xiong, X. C.*, Li, J., Huang, B. #, Tam, T., Hong, Y. Y., Chong, K. C., & Huo, Z. H. (2022). Economic Value of Vaccines to Address the COVID-19 Pandemic in Hong Kong: A CostEffectiveness Analysis. Vaccines, 10(4). doi:10.3390/vaccines10040495.

Xiong, X. C.*, Li, V. J. #, Huang, B., & Huo, Z. H. (2022). Equality and social determinants of spatial accessibility, availability, and affordability to primary health care in Hong Kong, a descriptive study from the perspective of spatial analysis. Bmc Health Services Research, 22(1). doi:10.1186/s12913-022-08760-2.

Xiong, X. C.*, Cao, X. L., & Luo, L#. (2021). The ecology of medical care in Shanghai. BMC Health Services Research, 21(1). doi:10.1186/s12913-020-06022-7.

Xiong, X. C.*, & Luo, L#. (2020). Inpatient Flow Distribution Patterns at Shanghai Hospitals. International Journal of Environmental Research and Public Health, 17(7). doi:10.3390/ijerph17072183.

Xiong, X. C.*, & Luo, L#. (2020). Patient-centered method to evaluate the spatial accessibility of primary health care in a case study in Shanghai. Australian Journal of Primary Health, 26(4), 344-350. doi:10.1071/py19233.

Xiong, X. C.*, Zhou, S., Huo, Z. H., & Luo, L#. (2019). GIS-based method to delimit spheres of influence for a medical consortium: Experience of a pediatric medical consortium, Shanghai. International Journal of Health Planning and Management, 34(1), 294-308. doi:10.1002/hpm.2630.

Xiong, X. C.*, & Luo, L#. (2017). Use of geographical information systems for delimiting health service areas in China. Geospatial Health, 12(1), 96-105. doi:10.4081/gh.2017.486.

Xiong, X. C.*, Jin, C., Chen, H. L., & Luo, L#. (2016). Using the Fusion Proximal Area Method and Gravity Method to Identify Areas with Physician Shortages. PLOS ONE, 11(10). doi:10.1371/journal.pone.0163504.
Back