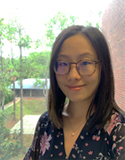 Post-doctoral Fellow
Division of Epidemiology and Biostatistics
Biography
Dr. Bingyi Yang obtained her Ph.D. in infectious disease epidemiology from The University of Hong Kong in 2017. She got her postdoctoral training at the Department of Biology, University of Florida during 2017-2020.
Dr. Yang's research interest is understanding the transmission dynamics of infectious diseases, with a focus on seroepidemiology and spatial-temporal analyses. Her recent work focus on transmission dynamics of COVID-19, including disparities in transmissions and the impacts of non-pharmaceutical interventions. Her previous research primarily focused on understanding population susceptibilities with serological data, such as modeling the complexity of human immunity to the influenza virus and seroprevalence of enteroviruses. She has also researched spatial distributions and synchrony of infectious diseases, including enteroviruses, dengue viruses and its vectors.
Selected Publications
Yang B

, Huang AT, Garcia-Carreras B, William Hart, Andrea Staid, Matt D.T. Hitchings, Elizabeth C. Lee, Kyra Grantz, Amy Wesolowksi, Joseph Chadi Lemaitre, Susan Rattigan, Carlos Moreno, Brooke Borgert, Celeste Dale, Nicole Quigley, Andrew Cummings,

Alizée McLorg, Kaelene Lomonaco, Sarah Schlossberg, Drew Barron-Kraus, Harrison Shrock, UFCOVID Interventions Team, Lessler J, Carl D. Laird, Cummings DAT. Effect of specific non-pharmaceutical intervention policies on SARS-CoV-2 transmission in the counties of the United States. Nature Communications. 2021. Jun 11;12(1):1-10.
Yang B

,

Tsang TK, Wong JY, He Y, Gao H, Ho F, Lau EHY, Wu P, Sullivan SG, Cowling BJ. The differential importation risks of COVID-19 from inbound travellers and the feasibility of targeted travel controls: A case study in Hong Kong. The Lancet Regional Health – Western Pacific.

2021 Aug 1;13:100184.

Yang B, Wu P, Lau EHY, Wong JY, Ho F, Gao H, Xiao J, Adam DC, Ng TWY, Quan J, Tsang TK, Liao Q, Cowling BJ, Leung GM. Changing disparities in COVID-19 burden in the ethnically homogeneous population of Hong Kong through pandemic waves: an observational study. Clinical Infectious Diseases. 2021 ciab002.
Huang AT†, Garcia-Carreras B†, Hitchings MDT†, Yang B†, Katzelnick L†, Rattigan SM, Borgert B, Moreno CA, Solomon BD, Rodriguez-Barraquer I, Lessler J, Salje H, Burke D, Wesolowski A, Cummings DAT. A systematic review of antibody responses to coronaviruses: antibody kinetics, correlates of protection, and association of antibody responses with severity of disease. Nature Communications. 2020 Sep 17;11(1):1-6. († = joint first authors)
Yang B, Lessler J, Zhu H, Jiang CQ, Read JM, Hay JA, Kwok KO, Guan Y, Shen R, Riley S, Cummings DAT. Life course exposures continually shape antibody profiles and risk of seroconversion to influenza. PLoS Pathogens. 2020. 16(7): e1008635.
Yang B, Borgert B, et al., Cummings DAT. Modelling distributions of Aedes aegypti and Aedes albopictus using climate, host density and interspecies competition. PLoS Neglected Tropical Diseases. 2021. 15(3): e0009063.
Yang B, Lau EH, Cowling BJ. Estimating the severity profile of enterovirus A71 infections in children: A Bayesian synthesis framework. American Journal of Epidemiology. 2018 Oct 24; 188(2):475-83.
Yang B†, Liu F†, Liao Q†, Wu P, Chang Z, Huang J, Long L, Luo L, Li Y, Leung GM, Cowling BJ, Yu H. Epidemiology of hand, foot and mouth disease in China, 2008-15 prior to the introduction of a monovalent EV71 vaccine. Euro Surveillance. 2017 Dec 14; 22(50). († = joint first authors)
Yang B, Lau EH, Wu P, Cowling BJ. Transmission of Hand, Foot and Mouth Disease and Its Potential Driving Factors in Hong Kong. Scientific Reports. 2016 Jun 7; 6:27500.
Yang B, Wu P, Wu JT, Lau EH, Leung GM, Yu H, Cowling BJ. Seroprevalence of Enterovirus 71 Antibody Among Children in China: A Systematic Review and Meta-analysis. The Pediatric Infectious Disease Journal. 2015 Dec 1; 34(12):1399-406.
Back