WHO Collaborating Centre for Infectious Disease Epidemiology and Control hosts a lecture by Dame Barbara Stocking on 7 Sept 2015
September 07, 2015
We are pleased to announce that the WHO Collaborating Centre for Infectious Disease Epidemiology and Control under the School of Public Health, The University of Hong Kong will be hosting an academic lecture entitled "All you ever wanted to know about Ebola" by Dame Barbara Stocking on 7 September 2015.

In January 2015, the Executive Board of World Health Organization commissioned a panel of outside independent experts to undertake an assessment of WHO's response to the Ebola outbreak. Dame Barbara Stocking chaired this panel and the final report of the panel was released on 7 July 2015. Dame Barbara will share the panel's investigation findings and also her visits to the Republic of Guinea and Brazzaville, the Republic of the Congo in this lecture, with details below:
Date: 7 September 2015 (Monday)
Time: 5:30 pm
Venue: Wang Gungwu Lecture Hall, Level P4, Graduate House, HKU (Map)
(Coachbuses will be available to take colleagues from the medical campus to the lecture venue that day, with details to follow)

Online registration for the lecture is available at http://goo.gl/xZOTk1.
(This lecture is reserved for an academic audience and is closed to the press.)

For enquiries, please contact the Secretariat at (852) 3917 6802 or whocc@hku.hk.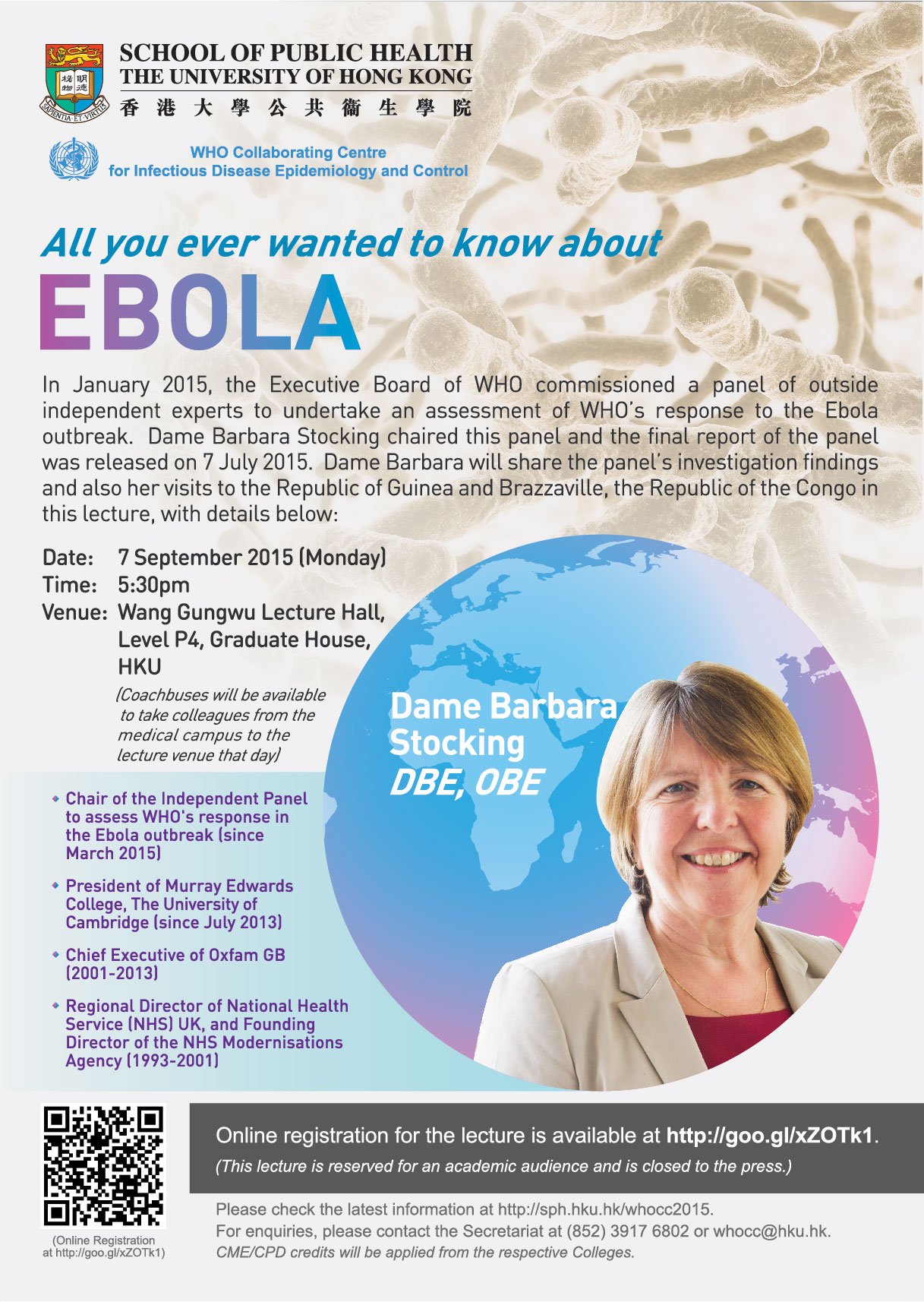 CME/CPD accreditations from the respective Colleges:

| | | |
| --- | --- | --- |
| College/Association | Max. for whole function | CME/CPD Category |
| Hong Kong College of Anaesthesiologists | 1.5 | Non-anaesthesia |
| Hong Kong College of Community Medicine | 1 | |
| College of Dental Surgeons of Hong Kong | 1.5 | Cat B |
| Hong Kong College of Emergency Medicine | 1.5 | PP |
| Hong Kong College of Family Physicians | 2 | Cat 5.2 |
| Hong Kong College of Obstetricians and Gynaecologists | 1.5 | Non-OG |
| College of Ophthalmologists of HK | Nil | |
| Hong Kong College of Orthopaedic Surgeons | Pending | |
| Hong Kong College of Otorhinolaryngologists | 1 | Cat 2.2 |
| Hong Kong College of Paediatricians | 2 | Cat E |
| Hong Kong College of Pathologists | 1.5 | PP |
| Hong Kong College of Physicians | 1.5 | |
| Hong Kong College of Psychiatrists | 1.5 | PP/OP |
| Hong Kong College of Radiologists | 1.5 | Cat B |
| College of Surgeons of Hong Kong | 1.5 | Passive |
| CME Programme for practising doctors who are not taking CME programme for specialists | 2 | |
Back