Asia Premiere of Film and Book Signing on Clean Hands Save Lives on 6 January 2017
January 06, 2017
We have much pleasure in inviting you to attend the Asia Premiere of Film and Book Signing on Clean Hands Save Lives to be hosted by the WHO Collaborating Centre for Infectious Disease Epidemiology and Control at the School of Public Health, The University of Hong Kong, with support from RGC Theme-based Research on Viral, Host and Environmental Determinants of Influenza Virus Transmission and Pathogenesis on 6 January 2017 (Friday), with details below:
Date: 6 January 2017 (Friday)
Time: 17:30-20:00
Venue: Large Moot Court, 2/F, Cheng Yu Tung Tower, Centennial Campus, HKU
Online registration: https://hkuems1.hku.hk/hkuems/ec_hdetail.aspx?guest=Y&ueid=47000
Programme: Program
The event will be graced by Professor Didier Pittet, Director of Infection Control Programme & WHO Collaborating Centre on Patient Safety, The University of Geneva Hospitals and Faculty of Medicine, Geneva, Switzerland, with a welcome address by Professor Keiji Fukuda, Clinical Professor, School of Public Health, The University of Hong Kong and former Assistant Director-General for Health Security and Special Representative for Antimicrobial Resistance,WHO.
For enquiries, please contact the Secretariat at (852) 3917 9044 or hkusph@hku.hk.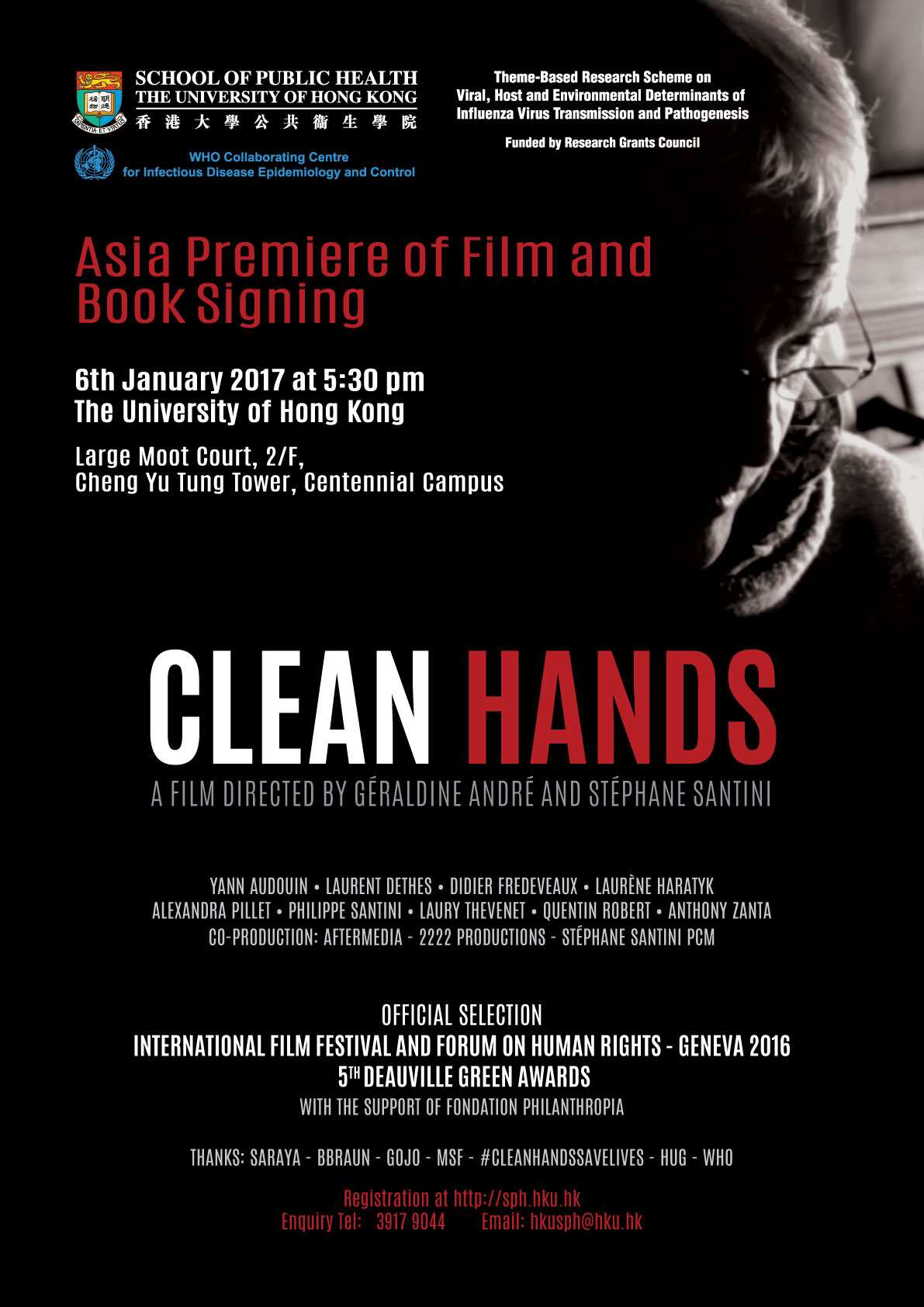 About the film:
Clean Hands
Hospital-related infections is a global challenge killing 16 million per year throughout the world. Ambassador to the World Health Organisation (WHO), Professor Didier Pittet has been promoting the "Clean Care is Safer Care" campaign around the globe for the last 20 years. Professor Pittet's actions and the generalization of alcohol-based handrub have cut by half the toll death directly due to nosocomial infections.
Clean Hands tells the story of Professor Didier Pittet who has dedicated his whole life to studying nosocomial infections. An odyssey made of touching and genuine encounters, which will enable people to understand the challenge represented by healthcare associated infections. The film was awarded the Finalist's Prize in the 5th Deauville Green Awards and in the International Film Festival and Forum On Human Rights - Geneva 2016.

About the book:
Clean Hands Save Lives
Every year hospital-related infections kill 16 million patients. Professor Didier Pittet is reducing these numbers by half. His crusade is recounted in a book that promises to be a major event. Translated into seventeen languages, it is being published by Editions L'Âge de l'Homme to mark the occasion of World Hand Hygiene Day on 5 May 2014.
A very simple procedure is saving the lives of 8 million patients each year throughout the world: disinfecting hands using alcohol-based handrubs. It has perhaps already saved your life, or that of a loved one. We owe the existence of nosocomial illnesses. Since 2005, in conjunction with the World Health Organization (WHO), Professor Didier Pittet has been leading a global campaign in which 170 out of 194 UN member states now take part. Professor Didier Pittet was made Commander of the British Empire (CBE) by Queen Elizabeth II in 2007. This fascinating book, translated into seventeen languages (including Arabic, Chinese, English, Farsi, French, German, Italian, Japanese, Polish, Portuguese, Spanish, Romanian, Urdu, ...), with a foreword by the WHO's Director-General, tells of an ongoing worldwide struggle against engrained habits, prejudices, and ignorance. It's a lesson of courage, hope, and peace.
Back