APRU Global Health Conference 2021
November 16, 2021
Hosted by the School of Public Health of The University of Hong Kong, APRU Global Health Conference 2021 will be held virtually from 16 to 18 November 2021.

The Conference entitled "Global Urban Health" will be kicked off by the Pre-conference Workshops on 15 November 2021, followed by Keynote Addresses by distinguished speakers, Symposium on "Advancing Diversity in the Academia", Plenary Session on "Designing Cities to Promote Well-being", career mentoring and sharing sessions, and interactive breakout sessions for abstract sharing.

This Conference provides an excellent opportunity to not only get insights from renowned local and international speakers and mentors, but also network with academics, scientists and peers from different parts of the world in the field of Global Health, Medicine, Architecture, Social Sciences, etc.

Free access (including the Pre-conference Workshops) to the full Conference will be offered to the following groups:
HKU staff and students
All first authors of the Global Health Student Poster Contest
Student presenting/first authors of the abstracts accepted via regular abstract submission

Registration
Please register here by 15 October 2021 (11:59pm, Pacific Time).

Submit an Abstract
The Conference is now calling for abstracts from around the world. All abstracts accepted for oral presentation will be published in the Journal of Public Health and Emergency (JPHE). Please submit by 1 August 2021 at 11:59pm (Pacific Time).

Enquiry
Please contact the Secretariat for APRU Global Health Conference 2021 at (852) 2559 9973 or at reg@aprughc2021.org.

About APRU
As a network of leading universities linking the Americas, Asia and Australasia, the Association of Pacific Rim Universities (APRU) is the Voice of Knowledge and Innovation for the Asia-Pacific region. APRU brings together world-class expertise to exchange ideas and collaborate on effective solutions to the challenges of the 21st century.
https://apru.org/.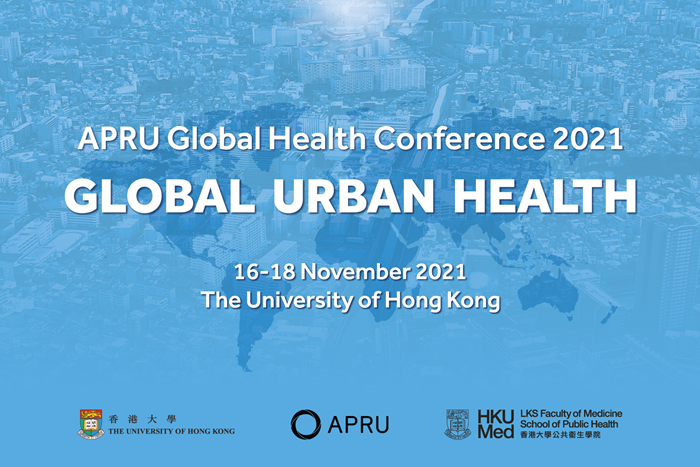 Back