How to convert your knowledge into impact?
April 16, 2021
Learning how to put knowledge into practice, and bring real-life impact to the community, are essential skills for today's public health professionals.

In this talk, entitled – How to Convert Your Knowledge into Impact? – the speaker will explain the concept of 'knowledge exchange', and why it is important to acquire relevant skills. The speaker will also introduce some of the resources available in the university. This will be followed by inspiring stories from students, illustrating how they are successfully turning innovations into real-life impacts.

The talk is held in connection with the Public Health in Action -- Student Knowledge Exchange Competition. HKUMed students especially those interested to join the Competition are welcome to attend the talk and participate in the Q&A session.
Details of the talk are as follows:
Date:

16 April 2021 (Friday)
Time:
2-3pm
Format:
Hybrid - simultaneous live participation for both face-to-face and virtual participants
Target audience:
All current students at HKUMed

Venue:

Boardroom, G/F, Patrick Manson Building (North Wing), 7 Sassoon Road, Pokfulam

No. of seats available on-site:

15 seats for on-site participation; more for Zoom participation


Speaker:

Mr Laurence Tang (view profile)
Senior Manager, iDendron,

Technology Transfer Office,

The University of Hong Kong
HKU MPH Alumnus
Moderator:

Professor Keiji Fukuda (view profile)
Director and Clinical Professor, School of Public Health,
The University of Hong Kong

Registration:

Click here

For queries, please contact Ms Bernice Luk at 3917 9923 or bernice1@hku.hk.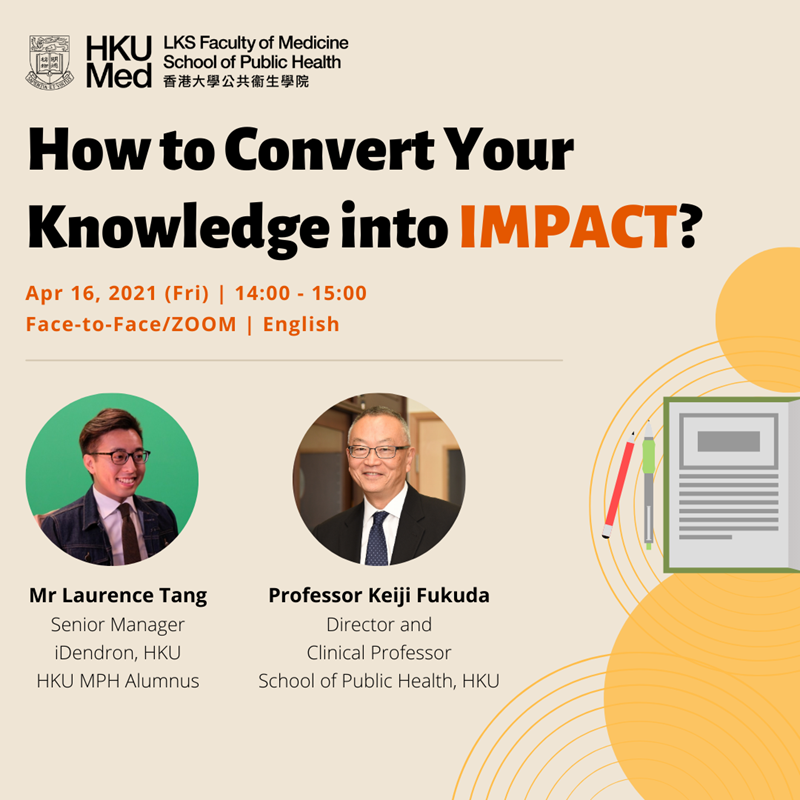 Back