'Promoting Family Wellbeing: from Two Mega Family Projects to Future Multi-sector Collaborations' Symposium 2022
September 17, 2022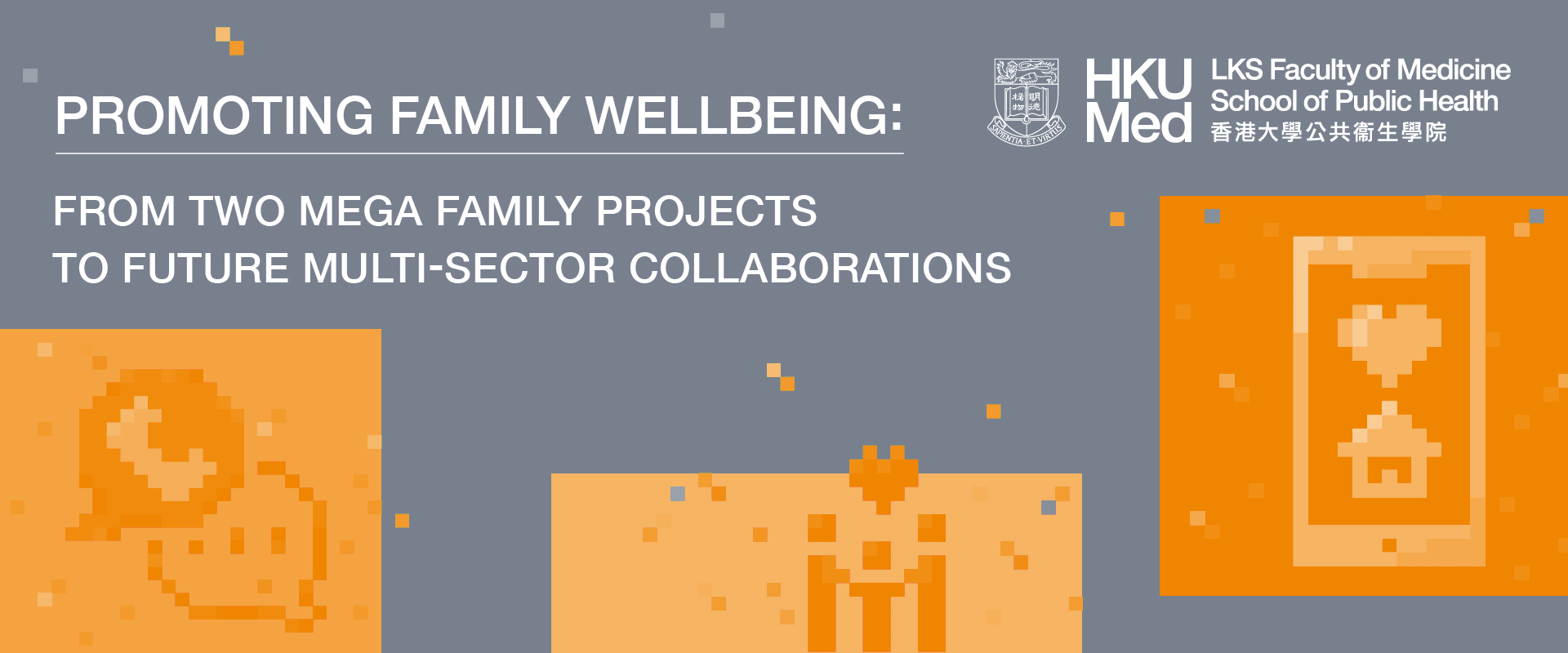 The School of Public Health will be hosting the following Symposium, with details as follows:
| | |
| --- | --- |
| Event: | 'Promoting Family Wellbeing: from Two Mega Family Projects to Future Multi-sector Collaborations' Symposium 2022 |
| Date: | 17 September 2022 (Saturday) |
| Time: | 9:30am – 12:00nn (Registration starts at 9:00am) |
| Format*#: | Hybrid (In-person and virtual mode available; all speakers will join in person) |
| Venue**: | Lecture Theatre, 1/F, HKUMed Academic Building, 3 Sassoon Road, Pokfulam, Hong Kong (view map) |
* Format of Symposium is subject to change according to infection control measures of the University
** Shuttle bus service will be available between Kennedy Town MTR and the venue (details upon registration)
# Language: Conducted mainly in Cantonese, with English/Chinese presentation slides

The Symposium will present the remarkable achievements of the FAMILY: a Jockey Club Initiative for a Harmonious Society ("FAMILY Project") and the Jockey Club SMART Family-Link Project ("JCSFL Project"). Both Projects were initiated by the Hong Kong Jockey Club Charities Trust (HKJC) and led by HKU in collaboration with NGOs and other community stakeholders. Adopting a public health approach, the Projects have promoted family wellbeing and the use of information and communications technology (ICT) in family services in Hong Kong, with hundreds of collaborators and millions of beneficiaries over the past 14 years, overcoming barriers to services arising from the COVID-19 pandemic. HKJC, HKU and NGO speakers will be sharing experiences and successes of these two Projects and their vision of promoting family wellbeing with multi-sector collaborations and ICT use.
Registration
Seats are limited and on a first-come, first-served basis. Please register here.
(For those who have registered for the Symposium originally scheduled in July, please make a new registration.)
*** The Symposium will be accredited for CNE points by HKU School of Nursing. Fellows who participate online shall follow the policies and practices regarding monitoring of online participation for awarding CNE points.

Speakers and Respondents (by the order of last name)
Dr Gabriel Leung

Executive Director (Charities and Community), Hong Kong Jockey Club,
and Honorary Clinical Professor, School of Public Health, HKU

Professor Lam Tai-hing

Emeritus Professor and Honorary Clinical Professor, School of Public Health, HKU


Professor Sophia Chan

Professor, School of Nursing, HKU

Ms Alice Wan

Chief Executive, Aberdeen Kai-fong Welfare Association Limited





Ms Joyce Tse

Programme Director (Family & Community), Christian Family Service Centre

Mr Francis Li

Elderly Service Director, The Neighbourhood Advice-Action Council

Dr Michael Ni

Clinical Associate Professor, School of Public Health, HKU


Professor Reynold Cheng

Professor, Department of Computer Science, HKU

Dr Kelvin Wang

Associate Professor, School of Nursing, HKU

Dr Daniel Ho

Convener of Symposium and Associate Professor, School of Public Health, HKU

Vaccination Requirements
In-person participants will need to comply with HKU Vaccine Pass requirements.

Enquiry
For enquiry, please email sym2022@hku.hk.
Back