Distinguished Lecture by Dr Victor Dzau on "Global Pandemic Prevention and Readiness: A Fragile State of Preparedness"

December 04, 2023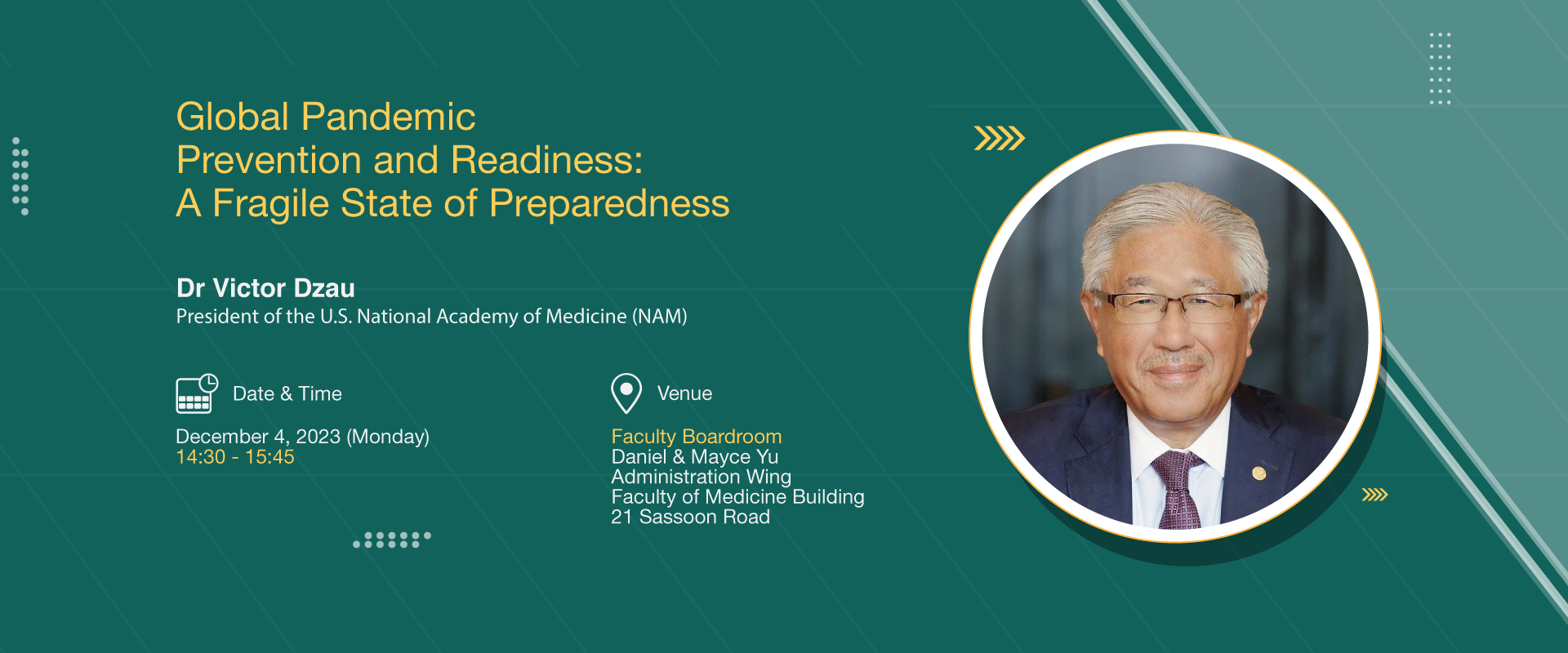 The School of Public Health of the University of Hong Kong will be hosting a Distinguished Lecture by Dr Victor Dzau, President of the U.S. National Academy of Medicine on "Global Pandemic Prevention and Readiness: A Fragile State of Preparedness", on December 4. Details are as follows:
| | |
| --- | --- |
| Speaker: | Dr Victor Dzau, President of the U.S. National Academy of Medicine |
| Date: | December 4, 2023 (Monday) |
| Time: | 14:30 – 15:45 (HKT) |
| Venue: | Faculty Boardroom, Daniel & Mayce Yu Administration Wing, Faculty of Medicine Building, 21 Sassoon Road (view map) |
| Format: | In-person only |
Biography
Dr Victor J. Dzau, MD, is President of the U.S. National Academy of Medicine (NAM), Vice Chair of the National Research Council, Chancellor Emeritus of Duke University, and past CEO of Duke Health System. Previously, he was Professor and Chairman of Medicine at both Harvard and Stanford Universities. Recognised globally as a scientist, administrator, and leader, Dr Dzau's seminal research in cardiovascular medicine and genetics laid the foundation for the class of lifesaving cardiac drugs known as ACE inhibitors. He pioneered gene therapy for vascular disease and was the first to introduce DNA decoy molecules to block transcription as gene therapy in humans.

Leading the NAM, he has brought a global perspective and activist orientation. He designed and led important initiatives such as the Commission on a Global Health Risk Framework, Roadmap for Healthy Longevity, the International Human Gene Editing Initiative; Vital Directions for Health and Health Care; Confronting the Opioid Crisis and the Grand Challenge in Climate Change and Human Health.

A leader in global health, Dr Dzau launched the Duke Global Health Institute and Duke-NUS Medical School in Singapore, founded the Division of Global Health Equity at Harvard, and chairs the International Advisory Board of McGill's School of Population and Global Health. He serves on Global Preparedness Monitoring Board, is a Principal of ACT Accelerator, was advisor to G20 High Level independent panel on Financing for Pandemic Preparedness and Response, co-chaired the G20 Scientific Panel on Global Health Security, and served as an advisor to the G7 (Japan) Health Task Force. He leads the World Economic Forum Regional Vaccine Manufacturing Collaborative and is Co-chair of the Science and Technology Expert Panel for the Independent Pandemic Preparedness. He was made an Honorary Citizen of Singapore and has received 18 honorary doctorates.
About the lecture
As the world transitions from a state of COVID emergency and faces the aftermath of the pandemic, it is clear we lack solid foundations to ensure current efforts for preparedness will be sustained to build an enduring bridge to a state of global health security. The current situation is made more fragile by lack of trust, persistent inequity, pandemic fatigue, and lack of political will. While we have witnessed some major improvements with respect to international pandemic prevention, preparedness, and response (PPPR) over the past three years – e.g. the rapid development of vaccines, investments in medical countermeasures, community engagement and building regional capacity – we continue to see difficulties with global R&D coordination, misinformation and disinformation, and inadequate participation of low- and middle-income countries in the governance of pandemic preparedness. There are also gaps in independent monitoring, sustainable financing, multilateral investment, and equitable access to care. The time is now for the entire global health community to come together – including government and public and private stakeholders – to actively commit and build a state of strengthened PPPR, before the next pandemic arrives.
Programme Rundown
Please view here for the rundown.

Registration
Please register here.

Registration will be closed on November 30 (Thursday) at 5pm. A confirmation email will be sent to successful registrants.

Enquiry
For enquiries, please email sphevent@hku.hk.
Back