"Lancet @ 200 – Looking Back and Looking Forward" Lecture by Dr Richard Horton
July 20, 2023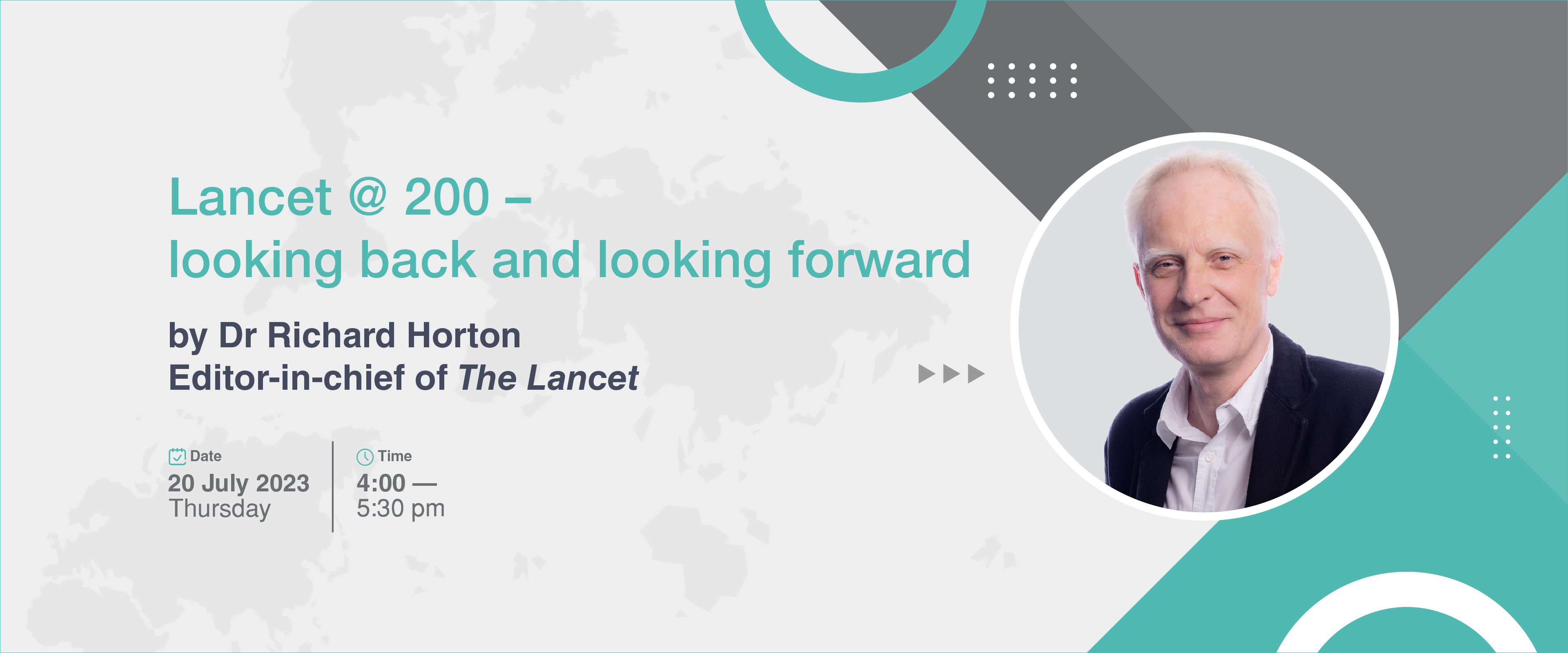 The School of Public Health of the University of Hong Kong will be hosting a lecture entitled "Lancet @ 200 – Looking Back and Looking Forward" by Dr Richard Horton, Editor-in-chief of The Lancet, on 20 July on HKU medical campus. Details are as follows:
Speaker:
Dr Richard Horton, Editor-in-Chief of The Lancet
Date:
July 20, 2023 (Thursday)
Time:
4:00 – 5:30pm
Format:

HKU members - in-person
Non-HKU members - in person and virtual mode available

Venue:
Faculty Boardroom, Daniel & Mayce Yu Administration Wing, Faculty of Medicine Building, 21 Sassoon Road (view map)
Biography
Richard Horton is Editor-in-Chief of The Lancet. He qualified in physiology and medicine with honours from the University of Birmingham in 1986. He joined The Lancet in 1990, moving to New York as North American Editor in 1993. In 2016, he chaired the Expert Group for the High Level Commission on Health Employment and Economic Growth, convened by Presidents Hollande of France and Zuma of South Africa. From 2011 to 2015, he was co-chair of the UN's independent Expert Review Group on Information and Accountability for Women's and Children's Health. In 2011, he was elected a Foreign Associate of the US Institute of Medicine and, in 2015, he received the Friendship Award from the Government of China. In 2019, he was awarded the WHO Director-General's Health Leaders Award for outstanding leadership in global health and the Roux Prize in recognition of innovation in the application of global health evidence. In 2021, he received the Physicians for Human Rights Award in recognition of extraordinary leadership in advancing health and human rights. He now works to develop the idea of planetary health – the health of human civilizations and the ecosystems on which they depend. In 2020, he published The COVID-19 Catastrophe: What's Gone Wrong and How to Stop It Happening Again. A revised, updated, and expanded second edition was published in 2021. As part of the UK's 2023 Honours, Dr Horton was awarded the Order of the British Empire (OBE) in recognition for services to Health and Medical Journalism.
Programme Rundown
Please view here for the rundown.
Registration
For HKU members, please register here.
For non-HKU members, please register here.

Application deadline is on July 18, 2023. A confirmation email will be sent to successful registrants.
Enquiry
For enquiries, please email sphevent@hku.hk.
Back