The University of Hong Kong co-hosts a Seminar on Global Health Security: Climate and Environmental Threats
June 10, 2016
In collaboration with Chatham House, the Public Health Strategic Research Theme/Public Health Research Centre, The University of Hong Kong (HKU) co-hosted a seminar on the future of global health security under increasing climate and environmental threats on 10 June 2016.
The seminar is the inaugural event of the Co-Nexions series of symposia involving The University of Hong Kong's Strategic Research Themes in Public Health as well as the Earth as a Habitable Planet respectively. Co-Nexions targets networks linking global ecological deterioration, human health and wellbeing and contemporary population, economic and societal behaviours. Co-Nexions symposia present cutting-edge panoramas designed to stimulate debate, solution-finding and implementation on these critical issues. This is also the fifth in a series of Chatham House seminars in Hong Kong which aim to bring together high-level participants from Hong Kong and the wider region for discussions with Chatham House experts.
The seminar began with an overview by Professor Richard Fielding, Co-convenor of the Public Health Strategic Research Theme at HKU of converging climate and environmental threats that pose severe and growing challenges to the maintenance and development of physical, mental, social and economic wellbeing. "Climate destabilization, habitat and species loss, threats to the food supply, water and air quality are all interlinked. In particular, food production and consumption is a pivotal issue that links deteriorating climate, environmental degradation and poor health, contributing both to non-infectious diseases through nutritionally-related disorders, and to infectious diseases, being a major driver of antimicrobial resistance and potential sources of infection," said Professor Fielding. He further explained that the continuing failure to identify and engage actionable inflection points in these ongoing environmental crises is generating major threats both directly to health - and the necessary socioeconomic and political stability that enables the provision of effective health care as our habitats progressively deteriorate - , and indirectly by amplifying existing inequalities.
Professor David Heymann, Head of Global Health Security, Chatham House then gave a keynote address on how infectious diseases threaten health security. "Societies are vulnerable to the threat of infectious disease outbreaks that spread across national borders to cause epidemics or pandemics. Efforts to protect the population from such events are a cornerstone of health security", said Professor Heymann. Meanwhile, diseases such as malaria, hepatitis and other common infections, as well as non-infectious diseases such as diabetes, are a risk for each of us individually. Professor Heymann expounded his views that our personal health security is protected by access to safe and affordable prevention, treatment and other health services.
The final speaker of the afternoon was Professor Shilu Tong, Professor of Public Health at Queensland University of Technology, Australia. His talk addressed how impacts of global environmental changes on human health are emerging, and there is an urgent need to assess the health consequences of these changes at local, regional and global levels. "These large-scale environmental problems (such as climate change and air pollution) threaten population health in many ways. Using both the heat effects and air quality impacts as examples in my presentation, I hope that this seminar will enable nations and governments around the world to seriously discuss how we can rise up to tackle this formidable challenge through an interdisciplinary and collaborative approach," said Professor Tong.
There followed a panel discussion involving Professor Sophia Chan, Undersecretary for Food and Health of HKSAR Government, Ms Christine Loh, Undersecretary for Environment of HKSAR Government, Professor Gabriel Leung, HKU Dean of Medicine and Co-Director of World Health Organization Collaborating Centre for Infectious diseases Epidemiology and Control, along with both keynote speakers. Members of an invited audience from the diplomats, government, business and academic communities participated in the roundtable discussion.
About the Public Health Research Centre and Public Health Strategic Research Theme of The University of Hong Kong
The Public Health Research Centre (PHRC) is one of six research centres of Li Ka Shing Faculty of Medicine based on the University's Strategic Research Themes. The Centre is committed to undertaking public health and related multidisciplinary research which can provide the evidence and intelligence most needed to support policies and strategies for the control of the double disease burden of the communicable and non-communicable diseases and for the promotion of public health and well-being of the population locally, regionally as well as internationally.
The Centre is one embodiment of the University Research Committee's Strategic Research Theme of Public Health established in 2005, since which there has been a significant expansion in collaborative research and new developments in areas on obesity, public health genetics and infectious disease epidemiology. Together with the School of Public Health of HKU Li Ka Shing Faculty of Medicine, PHRC and SRT members are actively engaged in a number of projects of public health significance.
About Chatham House
Chatham House, The Royal Institute of International Affairs, is an independent policy institute based in London. Its mission is to help build a sustainably secure, prosperous and just world.
Media enquiries
For media enquiries, please contact Ms Karen Lau (Tel: 39179928) of the School of Public Health, Li Ka Shing Faculty of Medicine, HKU.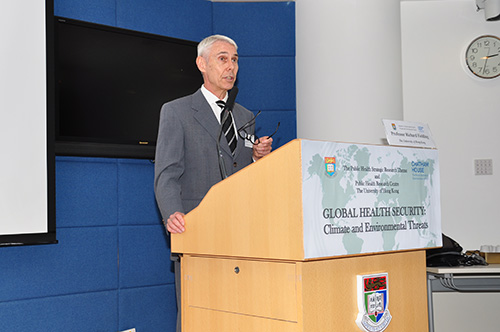 Professor Richard Fielding, Director of Public Health Research Centre; Convenor of Strategic Research Theme of Public Health, The University of Hong Kong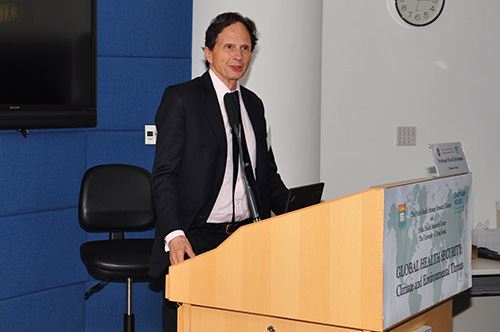 Professor David Heymann, Head of Centre on Global Health Security, Chatham House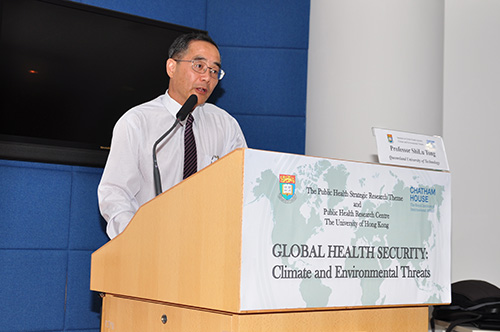 Professor Shilu Tong, Professor of School of Public Health and Social Work, Institute of Health and Biomedical Innovation, Queensland University of Technology, Australia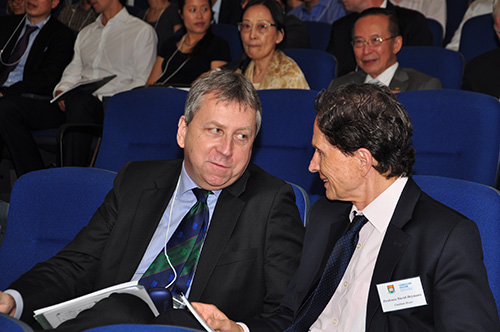 Professor Peter Mathieson, President & Vice-Chancellor, The University of Hong Kong (Left) and Professor David Heymann, Head of Centre on Global Health Security, Chatham House (Right)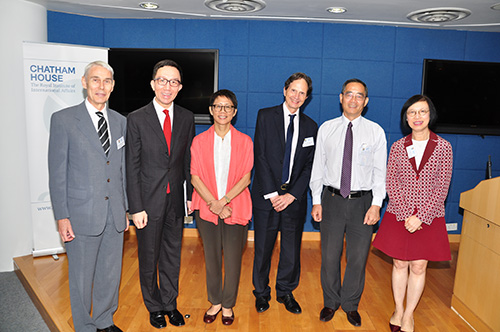 (from left)
Professor Richard Fielding, Director of Public Health Research Centre; Convenor of Strategic Research Theme of Public Health, The University of Hong Kong
Professor Gabriel M Leung, Co-Director of WHO Collaborating Centre for Infectious Disease Epidemiology and Control; Dean of Li Ka Shing Faculty of Medicine, The University of Hong Kong
Ms Christine Loh, Under Secretary for the Environment, The Government of the Hong Kong Special Administrative Region
Professor David Heymann, Head of Centre on Global Health Security, Chatham House
Professor Shilu Tong, Professor of School of Public Health and Social Work, Institute of Health and Biomedical Innovation, Queensland University of Technology, Australia
Professor Sophia Chan, Under Secretary for Food and Health, The Government of the Hong Kong Special Administrative Region
Back