HKU School of Public Health Hosts an International Conference on "Transmission of Respiratory Viruses: from Basic Science to Evidence Based Options for Control"
June 19, 2017
The WHO Collaborating Centre for Infectious Disease Epidemiology and Control at the School of Public Health, Li Ka Shing Faculty of Medicine of The University of Hong Kong (HKU) hosts a 3-day international conference on Transmission of respiratory viruses: from basic science to evidence based options for control (Transmission Conference 2017) from June 19 to 21,2017. The conference wassupported by the Li Ka Shing Faculty of Medicine, HKUon the occasion of its 130th anniversary; The Croucher Foundation; The Research Grants Council of Hong Kong; and the International Society for Influenza and Other Respiratory Virus Diseases (ISIRV).
The conference was well attended by over 160 healthcare policy leaders, clinical practitioners, scientists, academics and students. It brought scholars, researchers and clinicians working on different viruses fromdiverse disciplines together, to discuss respiratory virus transmission among humans, transmission from animals to humans, experimental models for virus transmission, determinants of transmission and measures to control respiratory virus transmission. It provided a forum for the presentation and discussion of the latest research on this topic, and to define future research priorities.
Leading international experts present at the conference and speakers include Professor Larry Anderson of Emory University School of Medicine, USA; Professor John Edmunds of London School of Hygiene and Tropical Medicine, UK; Professor Ron Fouchier of The Erasmus University Medical Center Rotterdam, The Netherlands; Professor Yoshihiro Kawaoka of University of Wisconsin-Madison, USA; Professor Donald Milton of University of Maryland, USA; Professor Colin Parrish of Cornell University, USA; Professor David Hui of The Chinese University of Hong Kong; Professor Yuguo Li of Department of Mechanical Engineering of The University of Hong Kong along with speakers from School of Public Health, Li Ka Shing Faculty of Medicine, HKU including Professors Ben Cowling, Professor Leo Poon, Dr Tommy Lam and Dr Hui-ling Yen.
"We have an exciting line-up of eminent researchers who will give presentations on this important subject and we expect to have active discussion and interactions that will deepen understanding and foster cross-disciplinary collaborations." said Professor Malik Peiris, Chair of Transmission Conference 2017, Tam Wah-Ching Professor in Medical Science and Chair Professor of Virology in his welcome address.
Given the speed with which viruses transmitted by the respiratory route spread globally(e.g. SARS, the 2009 influenza pandemic, MERS), epidemics caused by these virusespose the greatest threats to global public health and have potential to have major economic and social impact. Surprisingly, a lot remains to be understood about themechanisms by which these viruses are transmitted. Such knowledge gaps include the relativeimportance of direct or indirect contact and air-borne spread. As a result, the optimal interventions to prevent transmission are not clear. The role of viral genetic factors in transmission of viruses from animals to humans need to be better understood. These knowledge-gaps compromise the impact and rational use of non-pharmaceutical interventions for infection prevention and control.
Ongoing work addressing some of these gaps in knowledge tends to occur within individual silos, by pathogen (e.g. influenza, RSV, rhinovirus, measles, MERS) or by experimental approach (e.g. those working with experimental animal models; basic virology; epidemiology; aero-biology; infection control). The conference cuts across these divisions to bring together researchers working with different viruses and using different experimental approaches.
About the WHO Collaborating Centre for Infectious Disease Epidemiology and Control at the School of Public Health, Li Ka Shing Faculty of Medicine, HKU
The School of Public Health, Li Ka Shing Faculty of Medicine of The University of Hong Kong has been designated as a WHO Collaborating Centre for Infectious Disease Epidemiology andControl with effect from 10 December 2014. The designation of the HKU School of Public Health (HKU SPH) as a WHO CC is the first of such kind at the University. HKU SPH has a long and distinguished history in public health education and high impact research. With world leading research in infectious diseases as well as on non-communicable diseases of both local and global importance, the School has made significant contributions through its research and advocacy to improve the health of populations and individuals, both locally and globally. The School is a leading research and teaching hub in public health on influenza and other emerging viruses, control of infectious and non-communicable diseases, tobacco control, air pollution, psycho-oncology, behavioral sciences, life-course epidemiology, and health economics, health services planning and management. This work has informed international (e.g. the World Health Organization, Food and Agriculture Organization of the United Nations), national and local public health policies.
About 130 Years of Medicine in Hong Kong
Hong Kong College of Medicine for Chinese, established in 1887 and renamed the Hong Kong College of Medicine in 1907, was the territory's first institution of higher learning. In 1911, when the University of Hong Kong was founded, it was amalgamated into the Faculty of Medicine as the University's premier faculty.
The Medical Faculty is of course inextricably linked with the development of medicine in Hong Kong and the surrounding region while at once being intertwined with the city's development. Throughout our history, students and staff have shared wisdom, spread compassion and showed commitment, for the advancement of the health and wellbeing of the Hong Kong people.
On the propitious occasion of the Faculty's 130th birth year, we also celebrate the important anniversaries of and salute our longstanding hospital partners, who have grown with us and have shared in our achievements – Alice Memorial Hospital and the Alice Ho Miu Ling Nethersole Charity Foundation (130th), Hong Kong Sanatorium & Hospital (95th), Tsan Yuk Hospital (95th), Queen Mary Hospital (80th), Grantham Hospital (60th), HKU-Shenzhen Hospital (5th), and the commissioning of Gleneagles Hong Kong Hospital in the spring of 2017.
A wide array of celebratory activities, including academic conferences, reunions and outreach programmes, have been planned for the year, leading up to the finale of the Homecoming Dinner on December 17, 2017 at the Hong Kong Convention & Exhibition Centre.
For more information, please visit: 130.med.hku.hk.
Croucher Foundation
The Croucher Foundation is an independent private foundation established by the late Noel Croucher in 1979 to promote the standard of the natural sciences, technology and medicine in Hong Kong. The work of the Foundation is organised into five broad areas:
scholarships and fellowships for promising young Hong Kong scientists and medical doctors to pursue research overseas;
research fellowships to enable scientists in Hong Kong to pursue their intellectual inclinations, and to engage in bold new work;
conferences, workshops and collaborative research to facilitate the exchange of ideas between Hong Kong scientists and their counterparts overseas;
demonstration lectures to promote a wider understanding of science among Hong Kong school students and undergraduate students; and
support for any undergraduate student in Hong Kong experiencing sudden financial difficulty.
Noel Croucher entrusted the governance of his Foundation to the discretion of a Board of Trustees. Lord Todd, the Nobel Laureate and Master of Christ's College, Cambridge was the founding President of the Foundation. The current Chairman is Professor Tak Wah Mak, a Fellow of the Royal Society, a foreign associate of the US National Academy of Sciences, a Fellow of the Royal Society of Canada and an internationally recognised pioneer in the fields of immunology and cancer research. Professor Mak took up the chairmanship of the Croucher Foundation in June 2011. The immediate past Chairman is Professor Yuet Wai Kan FRS.
RGC Theme-based Research Scheme on Viral, Host and Environmental Determinants of Influenza Virus Transmission and Pathogenesis (2014-2019)
Awarded by the Hong Kong Research Grants Council, this five-year programme is an interdisciplinary collaborative project in influenza virus transmission and pathogenesis involving The University of Hong Kong, The Chinese University of Hong Kong and The Hong Kong University of Science and Technology. It aims to enhance global public health, provide high quality research, intellectual capacity, real-time data to inform local, national and global health policy, train the next generation of scientists and help maintain and enhance Hong Kong's world-leading status in influenza research.
International Society for Influenza and other Respiratory Virus Diseases (ISIRV)
The International Society for Influenza and other Respiratory Virus Diseases (ISIRV) is an independent and international scientific professional society promoting the prevention, detection, treatment, and control of influenza and other respiratory virus diseases.
ISIRV was founded in 2005 as the first scientific society with a fully worldwide remit focused on influenza and respiratory virus disease. A particular stimulus for its creation was also the need for an organisation to ensure continuation of the Options for the Control of Influenza conferences which were growing ever larger.
Influenza and acute respiratory virus disease is a field of public health of major international importance. Recent epidemiological events - the 2009 pandemic of H1N1 influenza, first identified in Mexico; the occurrence of human cases of avian influenza A(H7N9) in China; the emergence of Middle East Respiratory Syndrome (MERS-CoV); and ongoing outbreaks of virulent avian influenza A(H5N1) in several countries; continue to highlight the requirement for international collaboration on respiratory virus research and development.
Media enquiries
Please contact Ms Julie Au at 3917 6791 of the School of Public Health, Ms Florence Cheng at 3917 9995 / 9107 1676 or Miss Pinky Yu at 3917 9306 / 6823 6796 of Li Ka Shing Faculty of Medicine, The University of Hong Kong.
Please visit the website at http://www.med.hku.hk/news/for press photos.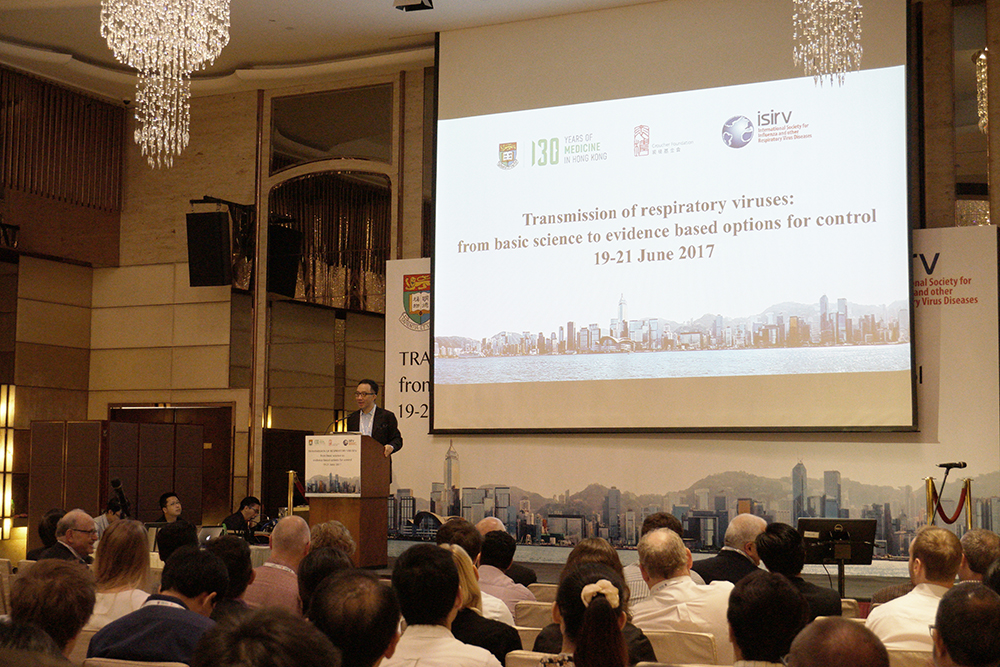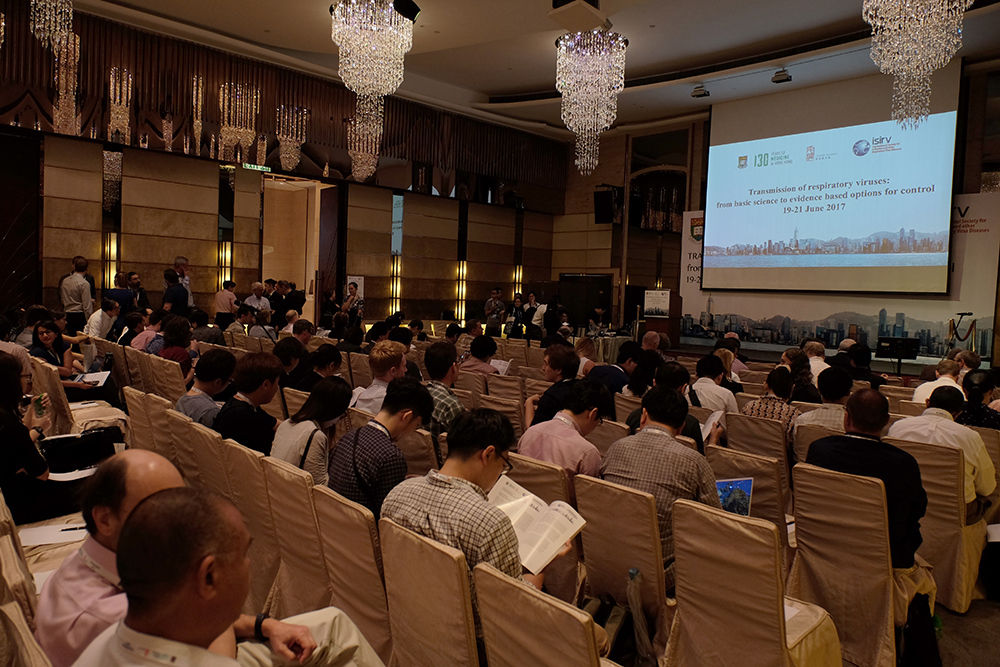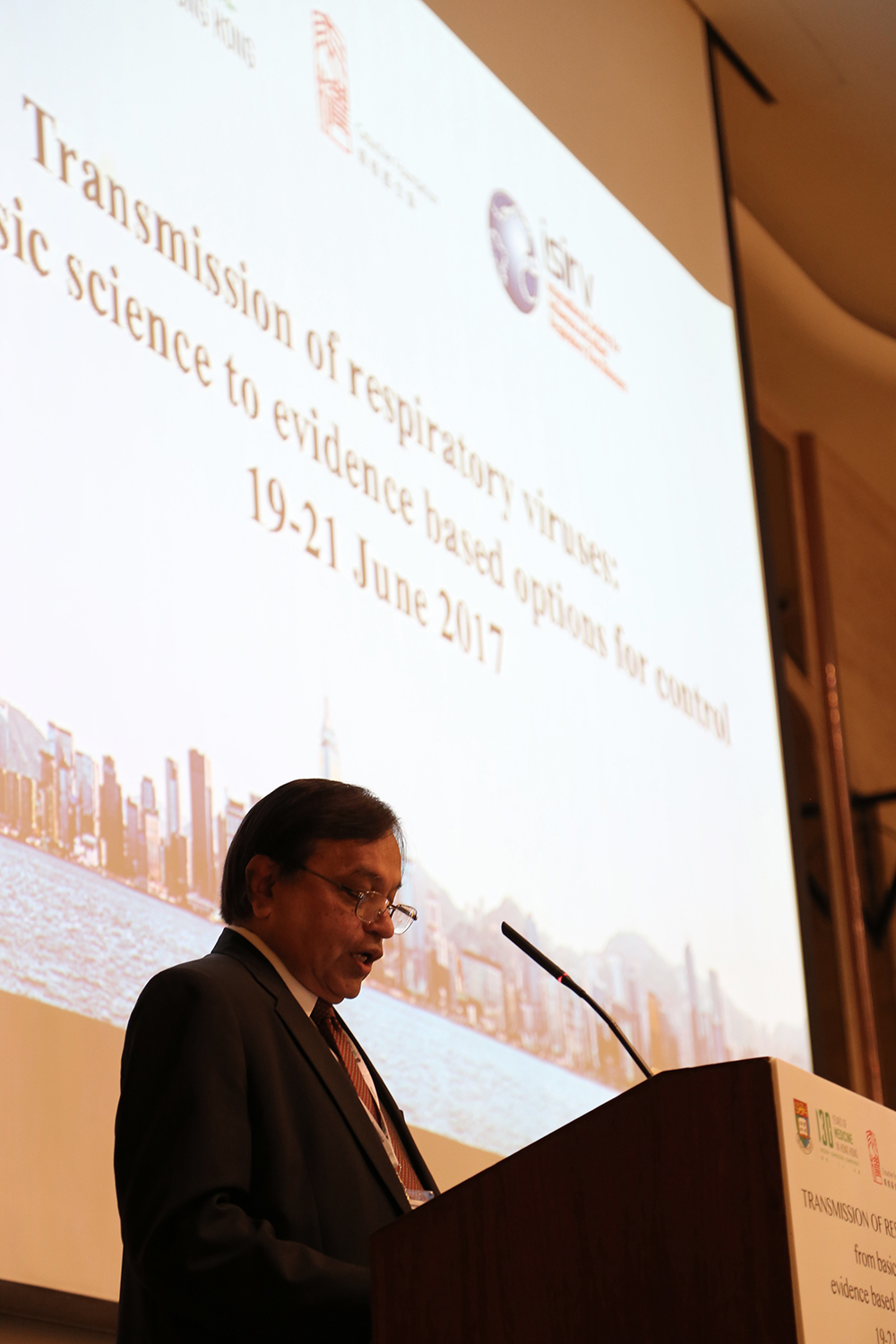 Back