NAM-HKU Fellowship in Global Health Leadership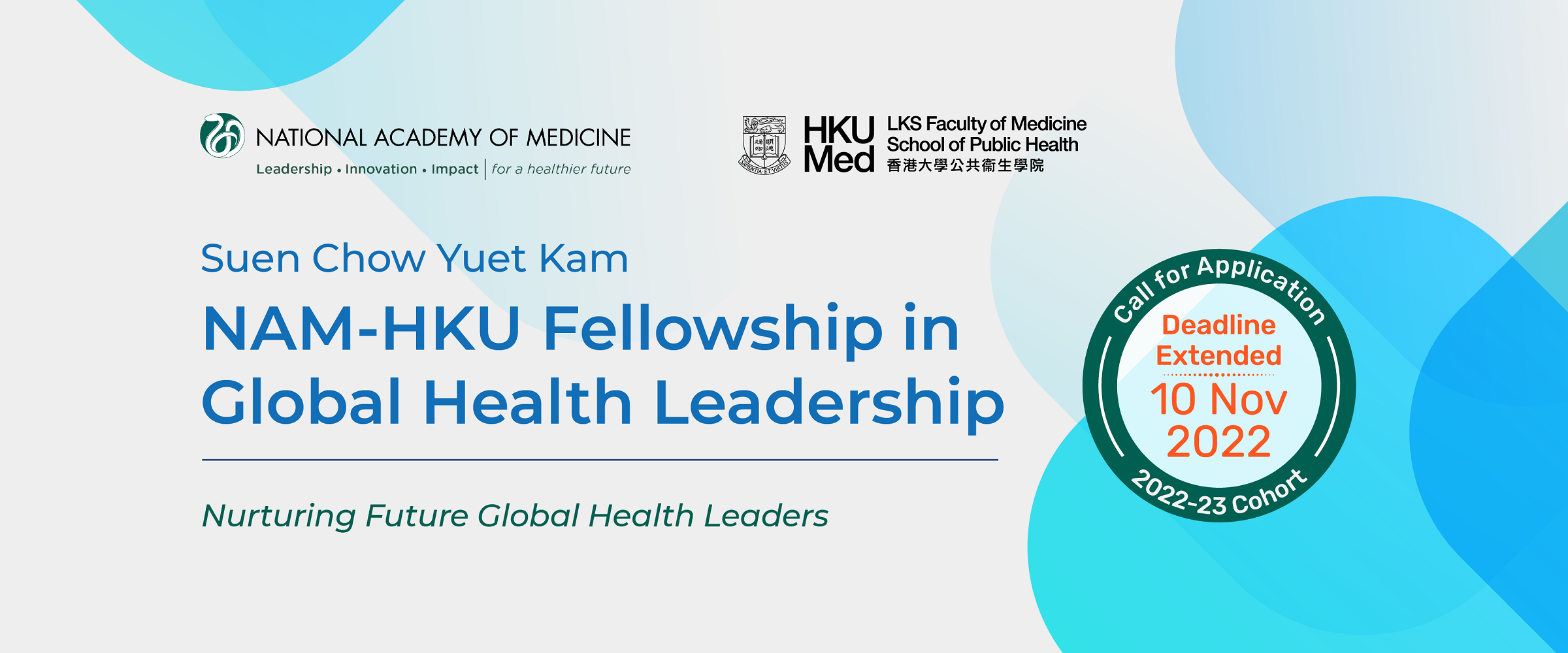 Background
The University of Hong Kong (HKU) and the U.S. National Academy of Medicine (NAM) have established the NAM-HKU Fellowship in Global Health Leadership since 2019. The Fellowship Programme aims to provide a two-year training for early to mid-career scholars to learn and work at HKU School of Public Health and the U.S. National Academy of Medicine in global health leadership.

Inaugural Fellowship Programme
Thanks to the generous donation of Dr Patrick Poon, the Fellowship programme has been running for three years, with one Fellow selected each year from 2019 to 2021. Profiles of the three awardees can be found here.
New Cohorts
Following the success of the inaugural Fellowship Programme, the School is most pleased to announce that with the generous donation of the Suen Chi Sun Charitable Foundation, the Fellowship Programme will be extended for another two years. The Suen Chow Yuet Kam NAM-HKU Fellowship in Global Health Leadership, which will start in 2023, is now calling for application.
About the Programme
The Suen Chow Yuet Kam NAM-HKU Fellowship Programme shall include:
scholarship to undertake the Master of Public Health (MPH) programme, on either part-time or full-time basis, at the HKU School of Public Health; and
attachment at HKU School of Public Health, to work on research or knowledge exchange project under the guidance of a professoriate staff; and
Two three-month stays at the U.S. National Academy of Medicine, Washington, D.C., during which the Fellow will learn and collaborate with an appropriate Board/ Expert Committee/ Roundtable, and be supported by a faculty mentor who is a member of NAM; and
roundtrip airfare from Hong Kong to Washington D.C., US for the NAM residency experience
Please note the Fellow shall be responsible for travel to Hong Kong (if applicable), and living costs during their stay in Hong Kong and Washington, U.S. when undertaking the Fellowship Programme.
For details about the Fellowship Programme, please click here.
Call for Application
We are now calling for application for the Fellowship Programme which will start in 2023.
Eligibility Criteria
Early to mid-career scholars with a graduate degree (i.e. either a master or a doctoral degree) and have completed their post-degree work for 2-10 years; and

Have a demonstrated interest and commitment in fields such as global health policy, governance, diplomacy, sustainable development, healthy cities, health equity, health systems and economics, or related areas.
To apply, applicants need to complete the online application, and upload an up-to-date CV and three reference letters. The deadline for application is extended to Nov 10, 2022 (Thursday). Shortlisted candidates may be invited for an interview.
For enquiry, please email namhku@hku.hk .
Awardees
Awardee for the 2021/22 Cohort - Dr Holly Lei Hou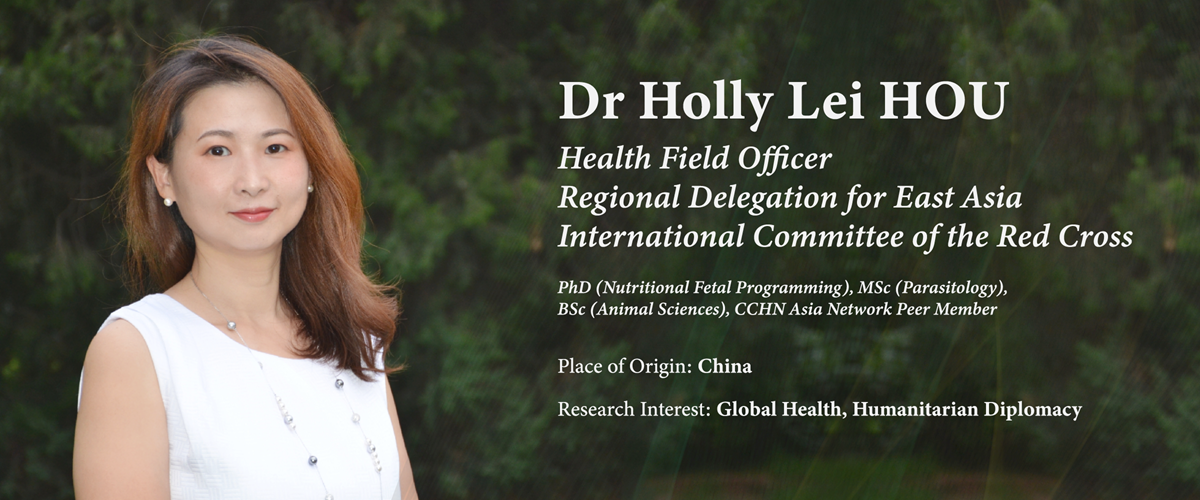 Born in China and educated in her home country and Denmark, Dr Hou is currently a Health Field Officer at the Regional Delegation for East Asia, the International Committee of the Red Cross (ICRC). She has over ten years of education and training as a natural science researcher, and has been working on cross-disciplinary projects in Animal Sciences, Virology, Parasitology, Physiology and Biochemistry. Her current work at the ICRC aims at supporting global health and humanitarian aid with China's increasing role, through research, analysis and diplomacy with key stakeholders and decision-makers. Through formal training provided by the Fellowship in HKU and at NAM, Dr Hou hopes to enrich her knowledge in public and global health, and to become a global health leader contributing to foreign health aid policy of China.
Awardee for the 2020/21 Cohort - Dr Kai Ning Cheong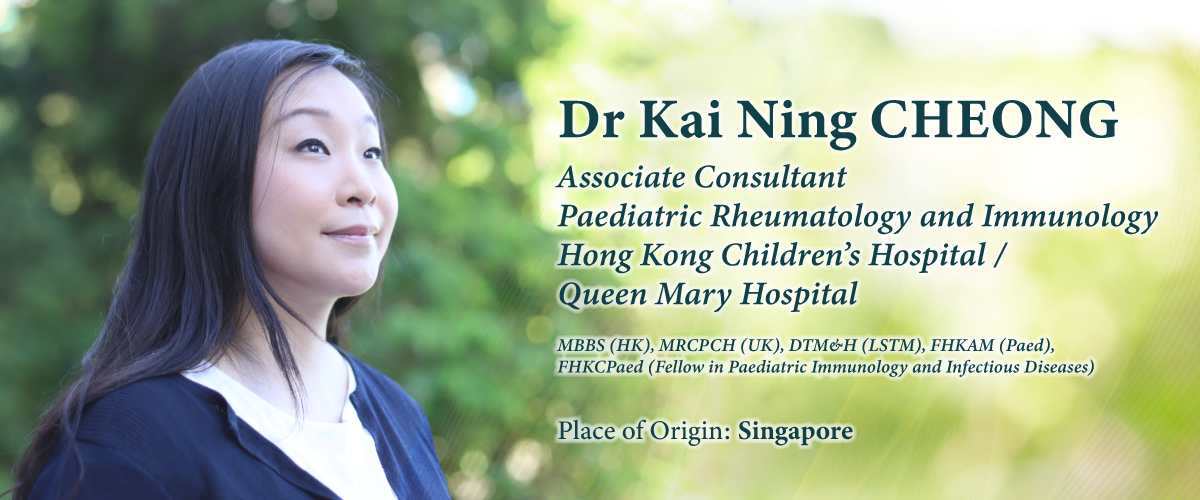 Born in Singapore, Dr Cheong was educated and trained in Hong Kong and the United Kingdom in multiple medical fields with diverse work experiences in both the developing and the developed world. She has spearheaded a team to develop and run a paediatric field hospital during a five-month humanitarian mission with Médecins Sans Frontières in South Sudan; worked in gene therapy for primary immunodeficiencies at Great Ormond Street Children's Hospital (UK); and coordinated a multidisciplinary team on a novel integrated healthcare service delivery model for rheumatology patients at the new Hong Kong Children's Hospital. Through formal training provided by this Fellowship, Dr Cheong aspires to translate her vision in building comprehensive, sustainable and inclusive 'treat-to-target' paediatric healthcare service models into reality and to better integrate innovative technology into existing healthcare systems.
Awardee for the 2019/20 Cohort - Dr Chinmoy Sarkar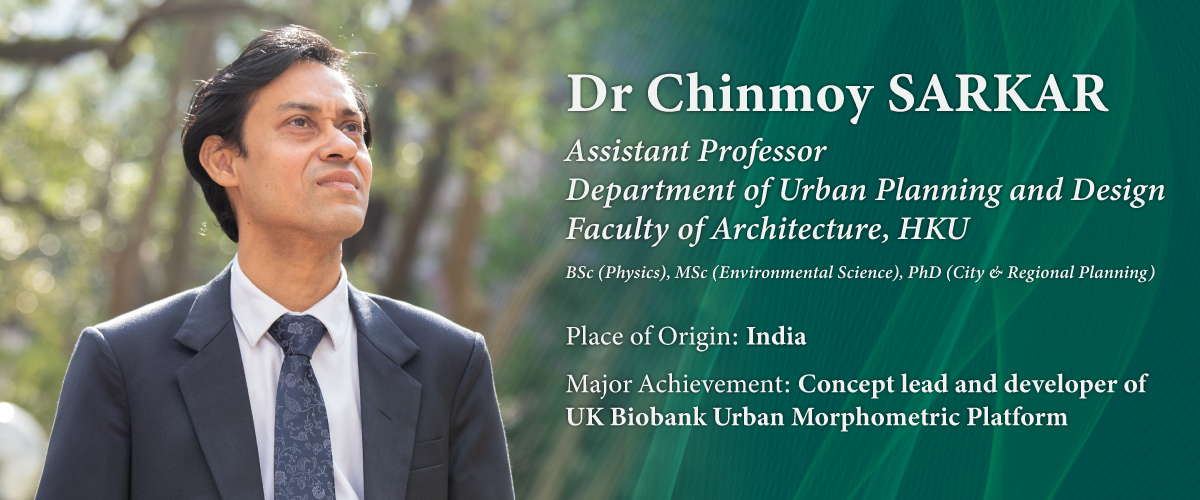 Born and raised in India and educated in his home country and the United Kingdom, Dr Sarkar is the concept lead, developer and PI of the UK Biobank Urban Morphometric Platform (UKBUMP) project which involves spatial modelling and development of the world's largest health-specific built environment data platform studying links between built environment and health. His goal is to develop more robust and causal models of associations between built environment and health and test them on some of the world's leading epidemiological cohorts, with an objective of informing urban health policies that can accurately incentivize or constrain positive or negative urban externalities and lifestyles respectively. Through formal training provided by the Fellowship, Dr Sarkar hopes to develop the science of healthy cities, and create/retrofit spaces and places in our neighbourhoods and cities that support healthy behaviours and lifestyle. View more about Dr Chinmoy Sarkar and his work here.
Back