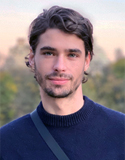 Post-doctoral Fellow
Division of Epidemiology and Biostatistics
Biography
Dr. Adam joined the School of Public Health, LKS Faculty of Medicine, as a Post-doctoral Fellow in 2020. His current research focus concerns the epidemiology and evolution of SARS-CoV-2 (COVID-19) with a particular interest in superspreading dynamics and transmission clusters.
He received his Ph.D. in Medicine from the University of New South Wales, Sydney (AU) in 2020. His thesis studied the applied integration of phylogenetic methods with clinical and epidemiological data to better understand the evolution and transmission dynamics of viral pathogens during epidemics and pandemics.
He received his bachelor's degree in Science from the University of Queensland majoring in Microbiology and Immunology and his master's degree in Public Health with Honours from the University of Sydney, Australia.
Selected Publications
Adam DC,

Wu P, Wong J, Lau E, Tsang T, Cauchemez S, Leung G, Cowling BJ. Clustering and superspreading potential of SARS-CoV-2 infections in Hong Kong. Nature Medicine. 2020

Adam DC

, Scotch M, MacIntyre CR. Phylodynamics of Influenza A/H1N1pdm09 in India Reveals Circulation Patterns and Increased Selection for Clade 6b Residues and Other High Mortality Mutants. Viruses. 2019 Sep;11(9):791.

Adam DC

, Scotch M, MacIntyre CR. Bayesian phylogeography and pathogenic characterisation of smallpox based on HA, ATI and CrmB genes. Molecular biology and evolution. 2018 Aug 7;35(11):2607-17.

Dyda A, Stelzer-Braid S, Adam DC, Chughtai AA, MacIntyre CR. The association between acute flaccid myelitis (AFM) and Enterovirus D68 (EV-D68)–what is the evidence for causation? Eurosurveillance. 2018 Jan 18;23(3).
Bui CM, Chughtai AA, Adam DC, MacIntyre CR. An overview of the epidemiology and emergence of influenza A infection in humans over time. Archives of Public Health. 2017 Dec;75(1):15.
Back