HKU School of Public Health Supports World Hand Hygiene Day
May 04, 2015
In support of the World Hand Hygiene Day (5 May) and to commemorate the ten-year anniversary of the World Health Organization's First Global Patient Safety Challenge, staff and students of The University of Hong Kong's School of Public Health participated in the Safe Hands 2015 campaign by taking their photos with the WHO Clean Care Safe Hands promotional boards.
First launched in October 2005, the WHO First Global Patient Safety Challenge: Clean Care is Safer Care is part of a major global effort led by the WHO to support health-care workers to improve hand hygiene in health care with the aim of preventing the often life threatening hospital-associated infections.
On 8 January 2015, the School held a press conference to announce that a HKU-Verified Hand Hygiene Programme has been adopted by the WHO globally to promoting hand hygiene in health care. Studies conducted by our researchers indicated that the "Hand Sanitizing Relay" exercise was effective in increasing hand hygiene compliance to over 85% in 2014. The results of the study have been published in the American Journal of Infection Control and F1000 Research Journal.
The School has been designated as a WHO Collaborating Centre for Infectious Disease Epidemiology and Control for four years with effect from 10 December 2014. As a staunch supporter of the WHO, the School is pleased to participate in the Safe Hands 2015 campaign to help remind the world that hand hygiene saves lives.
For further information about the WHO's Clean Care is Safer Care programme, please see http://www.who.int/gpsc/5may/background/en/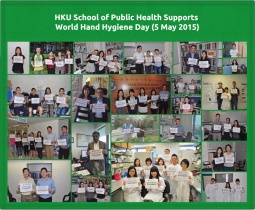 Back