Four SPH members received the University's Research Output Prize 2019-20
December 17, 2020
Four members of our School, namely Dr Shan Luo, Post-doctoral Fellow; Dr Ryan Au Yeung, Assistant Professor; Dr Jane Zhao, Assistant Professor; and Dr Mary Schooling, Associate Professor and Cluster Leader (Non-communicable Diseases in Global Health), were awarded the University Research Output Prize (ROP) 2019-20 for their paper published in The BMJ entitled "Association of genetically predicted testosterone with thromboembolism, heart failure, and myocardial infarction: mendelian randomisation study in UK Biobank" (link to the publication)

The ROP is a Faculty-based award to honour the best research output from each Faculty. The School extends our heartfelt congratulations to Dr Luo, Dr Au Yeung, Dr Zhao and Dr Schooling on their outstanding research accomplishments.

More details about this year's prize winners are available at http://www.rss.hku.hk/honours-awards/internal-awards/rop-winners.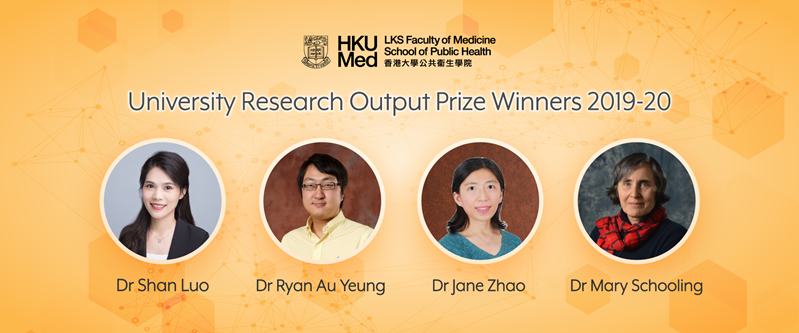 Back